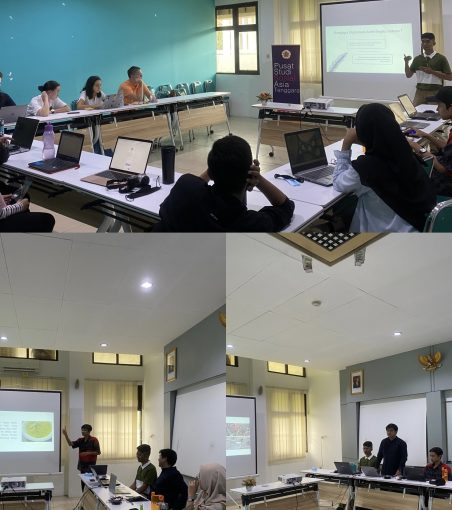 On Friday (30/09), the Center for Southeast Asian Social Studies Universitas Gadjah Mada (CESASS UGM) held a Sharing Session to share about Aceh with friends from Russia. This Sharing Session will be delivered by Acehnese who is interning at CESASS UGM, namely Muhammad Naufal Rizky, Lyska Coyoga, and Muhammad Zaky Al Aqsa.
This sharing will be specifically talking about Dutch History in Aceh, the Free Aceh Movement (GAM) and the Aceh Tsunami, and Acehnese cuisine. Aceh is a special region in Indonesia where almost three and a half centuries ago it was occupied by Dutch. But, only in the 20th century could they successfully conquer Aceh. That is because the Aceh kingdom had a lot of power back in the early 15th century. The Aceh kingdom had built a very good relationship with the Ottoman empire and many other kingdoms in Europe such as the British and France kingdom. The presentation continued with an explanation of the history of the Free Aceh Movement (GAM) in Aceh, which was an experience that many Acehnese could not forget. Talking about GAM cannot be separated from the Tsunami because for the people of Aceh, the Tsunami is believed to be God's way to solve the problem of the Aceh war between GAM and the Indonesian government. Finally, the presentation explained the cuisine in Aceh. Aceh is famous for spicy and savory foods such as Mie Aceh, food of Kuah Pliek, Manuk Labakh, Baku Pinget, Sie reboh and Le Bu Peudah.
This sharing session was closed with a question and answer session and a discussion between the interns, presenters, and friends from Russia who joined this opportunity. With this sharing, it is hoped that participants will be able to understand more about Aceh, especially about the culture, politics, and social community.