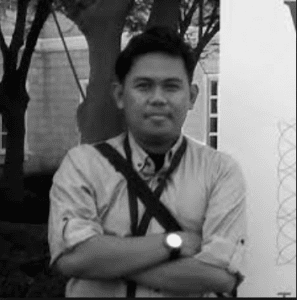 Researcher at  Center for Southeast Asian Social Studies
Universitas Gadjah Mada
 Contact:
Center for Southeast Asian Social Studies (CESASS) Universitas Gadjah Mada
PAU Building – Graduate School UGM,  1st floor, East Wing
Teknika Utara Street, Barek, Sleman
Special Region of Yogyakarta 55281
Indonesia
Telp/Fax: +62 (0) 274 589658
E-mail:  andiafitrah87@gmail.com
 Formal Education:
Master Program, Communication Science, Faculty of Social and Political Science, Universitas Gadjah Mada, Yogyakarta, Indonesia
Research Interests:
Research:
Research Assistant: SEATIDE Project 2013-2016. Integration in Southeast Asia: Trajectories of Inclusion, Dynamics of Exclusion. Work Package : Knowledge Networks in Southeast Asia.
Research Assistant: Hibah Riset Departemen Ilmu Komunikasi UGM 2013. Communication as the Basis of Modern Society Social System (Exploration on the Thoughts of Niklas Luhmann's General System Theory from the Perspective of Communication Science)
Research Assistant: Hibah Penelitian Kompetensi KemenristekDikti 2014-2016. Transformasi Sistem Penyiaran Indonesia Bagi Penguatan Kepentingan Publik di Era Digital (Studi Penguatan Sistem Penyiaran Bagi Kepentingan Publik dan Transisi Digital pada Empat Domain Penyiaran Indonesia: Publik, Privat-Komersial, Komunitas, dan Berbayar)
Researcher: Hibah Internal PSSAT UGM 2016. Mass Media and Construction of ASEAN Identity (Comparative study of Indonesia & Thailand) 2016-2017
Researcher : Hibah Riset FISIPOL 2017. Menuju Masyarakat Digital Asean: Konstruksi Kerjasama Teknologi Informasi & Komunikasi (Ict) Dalam Proses Integrasi Asean 2017.
Conference / Seminar
Presenter dalam Konferensi Nasional Komunikasi ISKI 2014. Judul makalah : Sistem Penyiaran Indonesia Dalam Perspektif Sistem Autopoetic Niklas Luhmann ( Eksplorasi dan Refleksi Autopoetic Sistem Penyiaran Indonesia)
Participant Conference on 22nd Annual AMIC Conference: Transformational Communication and The New Asia. 4-7 Juli 2013 . Yogyakarta.
Participant in International Conference The 24th Annual AMIC Conference: Communicating in an e-Asia Values,Technologies and Challenges. Dubai, 10-13 june, 2015.
Participant in 6th CCPS in Internasional Seminar , "ASEAN Media and Communication: Local and Regional Perspectives,". 9 Agustus 2016. Sukhothai Thammathirat Open University, Thailand.
Participant in Asian Communication & Journalism Societies Forum 2016. 22-23 Agustus 2016, Daejeon, Korea Selatan.