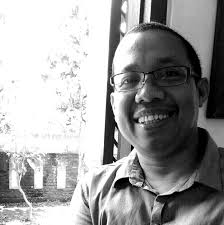 Senior Lecturer in the Department of Communication Sciences
Faculty of Social and Political Sciences
Universitas Gadjah Mada
Contact
Department of Communication Sciences
Faculty of Social and Political Sciences
Universitas Gadjah Mada
Jl. Socio-Justicia No.1, Bulaksumur, Yogyakarta 55281
E-mail: birawanto@ugm.ac.id or budiirawanto@yahoo.com
Educational background
2002-2004
Doctoral Programme
Department of Southeast Asian Studies
National University of Singapore
2002-2004
Master Programme
Department of Media and Information
Curtin University of Technology
1987-1996
Undergraduate Programe
Department of Communication Sciences
Universitas Gadjah Mada
Research Interest
Film
Cultural Studies
Southeast Asian Studies
Publication
Published Books & Books Chapters
2012, "Beyond Big Dramatic Moments: Indonesian Documentary Films in the 21st Century" in Asian Documentary Today, edited by Jane H.C.Yu and Asian Network of Documentary, published by Busan International Film Festival (BIFF), Busan (Korea)
2011, "Riding Wave of Change: Islamic Press in Post-Authoritarian Indonesia" in Politics and the Media in Twenty-First Century Indonesia: Decade of Democracy, edited by Krishna sen & David T Hill, published by Routledge , London & New York
2011, "Mengintip Misteri Renita: Sebuah Catatan Pengantar (Revealing Renita's Mystery: A Preface)" in Renita, Renita: Catatan Proses Membuat Film Dokumenter (Renita, Renita: Notes on Documentary Film Production) written by Tonny Trimarsanto, published by Rumah Dokumenter, Klaten
2011, "Catatan dari Kursi Juri Festival Film Dokumenter: Wacana Film Dokumenter Independen (Notes from Juror's Seat: Discourses on Independent Documentary Film)" in Mau Dibawa Ke Mana Sinema Kita? Beberapa Wacana Seputar Film Indonesia (Where is Indonesian Cinema Going? Some Discourses on Indonesian Cinema), edited by Ekky Imanjaya, published by Salemba Humanika, Jakarta
2009, "Menakar Peran Media Dalam Good Governance (Measuring the Roles of Mass Media in Good Governance)" in Berkawan dengan Media: Literasi Media untuk Pratisi Humas (Be Friend with the Mass Media: Media Literacy for PR Officers), edited by Wisnu Martha Adiputra, published by PKMBP and Yayasan Tifa, Yogyakarta
2009, "Membedah Kisah Sang Messiah: Sebuah Pengantar (Uncovering the Story of Messiah: A Preface)" in Jesus di Hollywood (Jesus in Hollywood) written by Imam Karyadi Aryanto, published by Kanisius, Yogyakarta
Published Journal
2015, "Melawan Tirani Usia (Against the Age Tyrany)" in Jurnal Pemuda.
2010, "Contemporary Indonesian Documentaries in the Yogyakarta Documentary Festival: Notes from the Juror's Seat" in Asian Cinema.
2009, "State and civil society in Indonesia: a society-oriented reading in search for democratic space (co-author)" in PCD Journal.
2008, "Film Indonesia: Papan Tulis atau Cermin Retak (Indonesian Cinema: A Blackboard or Broken Mirror)" in Jurnal REKAM.
2008, "Memerkarakan Identitas National: Representasi Identitas Kultural Dalam Sinema Generasi Baru Indonesia dan Malaysia" in Jurnal Sosial Politik.