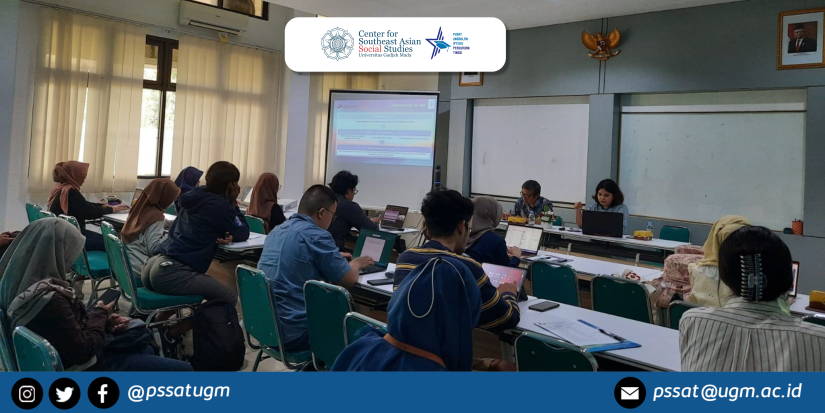 [Yogyakarta, 29 September 2023] — On Wednesday, September 27th, 2023, the Center for Southeast Asian Social Studies (CESASS) at Universitas Gadjah Mada held CESASS Talk Series 2, Part 2: "The Narrative and Construction of ASEAN Identity". The hybrid seminar featured an Indonesian diplomat, Monica Ari Wijayanti, M.A., a representative from the Directorate of ASEAN Socio-Cultural Cooperation at the Ministry of Foreign Affairs, Republic of Indonesia.
The seminar delved into the dynamic realm of ASEAN identity and its significance in today's evolving global landscape. Here are some key highlights from the event:
ASEAN Chairmanship 2023

: The Indonesian Foreign Minister, in the Annual Press Statement 2023, emphasized the nation's commitment to ensuring the continued importance and relevance of ASEAN under the theme "ASEAN Matters, Epicentrum of Growth." Indonesia's agenda focuses on inclusive and sustainable growth, with a particular emphasis on empowering rural communities, and the younger generation, and enhancing the protection of migrant workers and people with disabilities.

ASEAN's Relevance

: It was emphasized that ASEAN's relevance can only be sustained when its member countries foster deep understanding and awareness among their citizens. Beyond benefiting individuals, ASEAN's relevance should extend to the region and the world. A unified narrative on ASEAN Identity was proposed to achieve this goal.

Narrative of ASEAN Identity

: In response to the challenge of ASEAN's relevance in society, Indonesia took the initiative to prepare a Narrative of ASEAN Identity, successfully adopted by ASEAN Leaders at the 37th ASEAN Summit in November 2020. This narrative aims to highlight ASEAN's importance to society as part of a community, focusing on increased understanding, emotional connections, and a sense of belonging among ASEAN citizens.

Community Building

: Indonesia's role in hosting the ASEAN Secretariat and chairing ASEAN adds significance to the Narrative of ASEAN Identity. This initiative contributes to making history in the ASEAN community-building process by promoting unity through a shared identity.

Balanced Identity

: ASEAN Identity comprises a balance of inherited values such as solidarity and communalism, alongside constructed values from documents like the Bangkok Declaration and ASEAN Charter. This balanced identity is the foundation for a stronger ASEAN Community that can adapt to changing times.

Inclusive Implementation

: The Narrative of ASEAN Identity focuses on grassroots-level implementation to make ASEAN more relevant in the lives of all ASEAN citizens. This approach allows individuals to reap the benefits of being part of the ASEAN Community.

Alignment with ACMP II

: The implementation of the Narrative of ASEAN Identity aligns with the ASEAN Communication Master Plan (ACMP) II for the years 2018-2025. ACMP II serves as a communication strategy aimed at introducing ASEAN to people with varying levels of understanding. The main message of ACMP II is "ASEAN: A Community of Opportunities for All," involving various stakeholders, including ASEAN Studies Centers (ASC), local governments (

Pemda

), think tanks, educational institutions, youth organizations, and more, in conducting ASEAN awareness campaigns and socialization efforts.
It was moderated by Drs. Muhadi Sugiono, M.A., CESASS researcher and an IR scholar, the talk and discussion were very engaging with many responses from students and scholars who joined it either offline or online. We are proud to have hosted this webinar, fostering a deeper understanding of ASEAN Identity and its importance in today's world.
About CESASS
The Center for Southeast Asian Social Studies (CESASS) at Universitas Gadjah Mada is a research center dedicated to research and education in the field of Southeast Asian social studies.
Media Contact
The Center for Southeast Asian Social Studies
+62 274 589658
https://pssat.ugm.ac.id