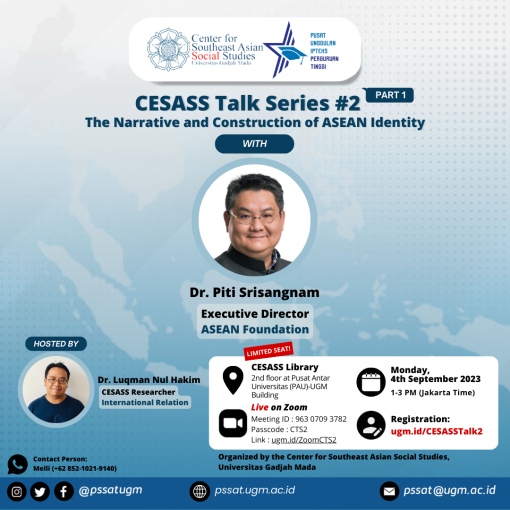 Center for Southeast Asian Social Studies UGM presents "CESASS Talk Series #2 Part 1, The Narrative and Construction of ASEAN Identity"!
🎤with:
Dr. Piti Srisangnam (Executive Director of ASEAN Foundation)
Hosted by Dr. Luqman Nul Hakim (CESASS Researcher – International Relation)
Date: Monday, September 4th, 2023
Time: 1-3 PM (Jakarta Time)
Join us offline at CESASS Library, PAU-UGM Building, 2nd Floor, East Wing (limited seat!)
Or online with the link below.
Zoom Meeting ID: 963 0709 3782
Passcode: CTS2
Link: ugm.id/ZoomCTS2
For join us offline, register now at http://ugm.id/CESASSTalk2
For more information, contact Melli (+62 852-1021-9140).
See you there!
#CESASS #ASEAN #southeastasia #asiatenggara #pusatstudisosialasiatenggaraugm