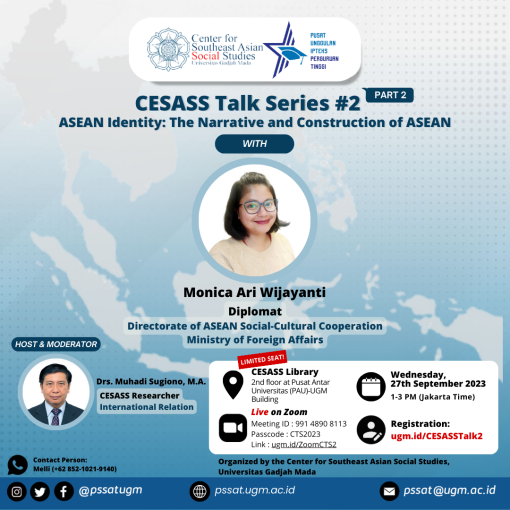 Center for Southeast Asian Social Studies (CESASS), Universitas Gadjah Mada presents CESASS Talk Series #2 Part 2: The Narrative and Construction of ASEAN Identity
🗓️Date: Wednesday, September 27th, 2023
⏰Time: 13.00 – 15.00 PM (Jakarta Time)
Join us offline at CESASS Library, PAU-UGM Building, 2nd Floor, East Wing (limited seat!)
Or online with the link below!
Zoom Meeting ID: 991 4890 8113
Passcode: CTS2023
Link: ugm.id/ZoomCTS2
With:
Monica Ari Wijayanti (Diplomat, Directorate of ASEAN Social-Cultural Cooperation, Ministry of Foreign Affairs)
Host and moderator by: Drs. Muhadi Sugiono, M.A. (CESASS Researcher)
For join us offline, register now at http://ugm.id/CESASSTalk2
For more information, do not hesitate to contact Mba Melli by Whatsapp (+62 852-1021-9140).
Thank you and see you there!