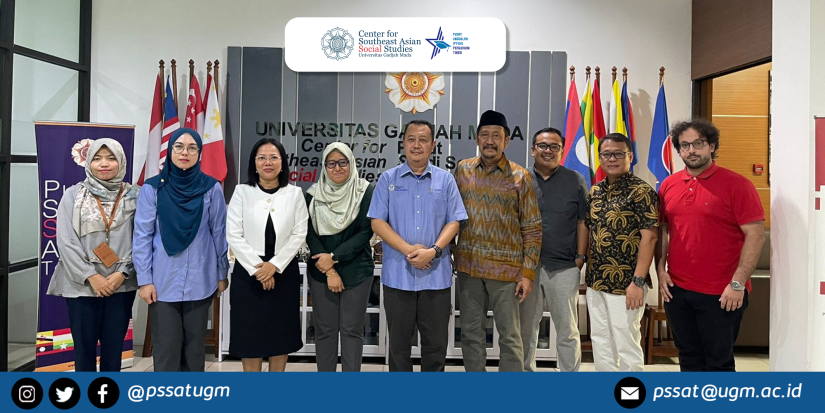 The Center for Southeast Asian Social Studies (CESASS) at Universitas Gadjah Mada (UGM) was honored to welcome esteemed guests from Universiti Utara Malaysia (UUM). Dr. Nor Suzylah Sohaimim, Director of the Research Institute for Indonesia, Thailand, and Singapore; Assc. Prof. Dr. Naim Ajis, Deputy Dean of the Ghazali Shafie Graduate School of Government; and Dr. Rosfaraliza Azura, Senior Lecturer at the School of Government, engaged in a fruitful meeting with CESASS.
Joining the event from CESASS were Dr. phil. Vissia Ita Yulianto (CESASS Head of Publication, Program, and Workshop), Prof. Dr. Purwo Santoso, M.A., Ph.D. (Faculty of Social Sciences and Politics, UGM), Dr. Fauzan (Faculty of Social Sciences and Politics, UPN), and Agung Satriyo Nugroho, S.Si., M.Sc. (Faculty of Geography, UGM).
The recent meeting hosted by CESASS marked a significant achievement. It served as a platform for engaging discussions between the representatives of UUM and CESASS, as they explored potential avenues for collaboration on research initiatives linked to the Research Institute for Indonesia, Thailand, and Singapore at UUM and CESASS at UGM.
The focus of the meeting was on social issues prevalent in Southeast Asia, specifically border issues, migration perspectives, and smuggling issues. The meeting provided an avenue for the distinguished guests from UUM and CESASS researchers to exchange valuable insights and expertise on these critical topics.
The meeting concluded with an exchange of souvenirs and a group photo session to mark the start of a future academic partnership between the two institutions. CESASS is committed to fostering strong partnerships with like-minded institutions to advance its research mission and deepen understanding of social issues in Southeast Asia.