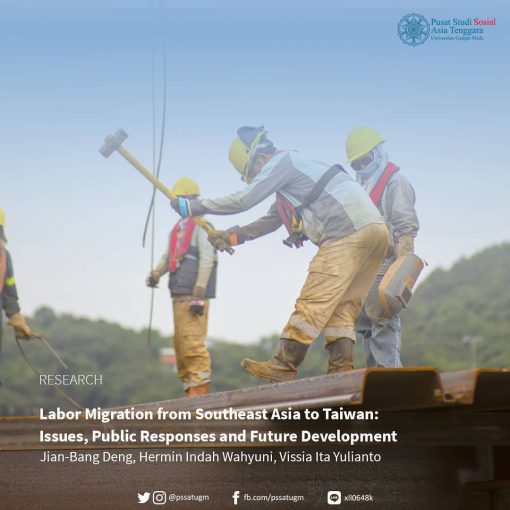 As a part of the working collaboration between the Center for Southeast Asian Social Studies, Universitas Gadjah Mada and the Graduate Institute of Futures Studies, Tamkang University, Taiwan, A joint paper by Prof. Jian Bang Deng, Prof. Hermin Indah Wahyuni and Dr. phil. Vissia Ita Yulianto is just published. This paper calls attention to the close linkage between transnational mobility and social inequality. It showed how the transnationalization of social inequality could get new faces through the new waves of labor migration. The issue of social inequality not only reflects the policy levels of receiving and sending countries, but it also is shown in experiences of the individual labor migrants in their transnational careers.
—-
Sebagai bagian dari kolaborasi antara PSSAT UGM dan Universitas Tamkang Taiwan, telah dipublikasikan joint paper oleh Prof. Jian Bang Deng, Prof. Hermin Indah Wahyuni dan Dr. phil. Vissia Ita Yulianto. Paper ini memberikan gambaran mengenai hubungan mobilitas transnasional dan ketimpangan sosial. Dalam penelitian ini, dijabarkan bahwa transnasionalisasi dari ketimpangan sosial dapat memberikan gelombang baru isi buruh migrant. Isu ketimpangan sosial bukan hanya direfleksikan oleh kebijakan pengirim dan penerima tenaga kerja namun juga terlihat dari pengalaman yang dialami para migran saat bekerja diluar negeri.
—
This research is sponsored by the Ministry of Science and Technology of Taiwan (project numbers: MOST 106-2410-H032-055-MY2).