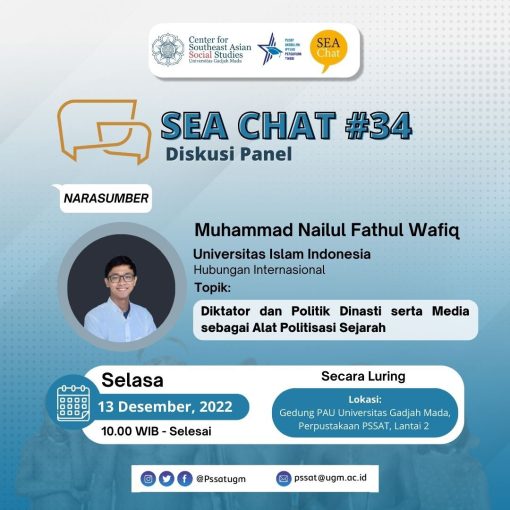 Democracy is a system of government in which the people govern by electing representatives. Referring to Dahl, the principle of democracy does not change in how the democratic mechanism in government institutions works. Meanwhile, there is a pathology of democracy where there are deviated forms of implementing democracy where democracy is set up for a dictatorial rule that is happening in Southeast Asia. The practice of dynastic politics then perpetuates the existence of democracy that leads to dictatorial, said Muhammad Nailul in the 34th SEA CHAT series. Muhammad Nailul is an intern student at the Center for Southeast Asian Social Studies who in this SEA CHAT brings a discussion about dictatorship and political dynasties and the role of media on history Politicization.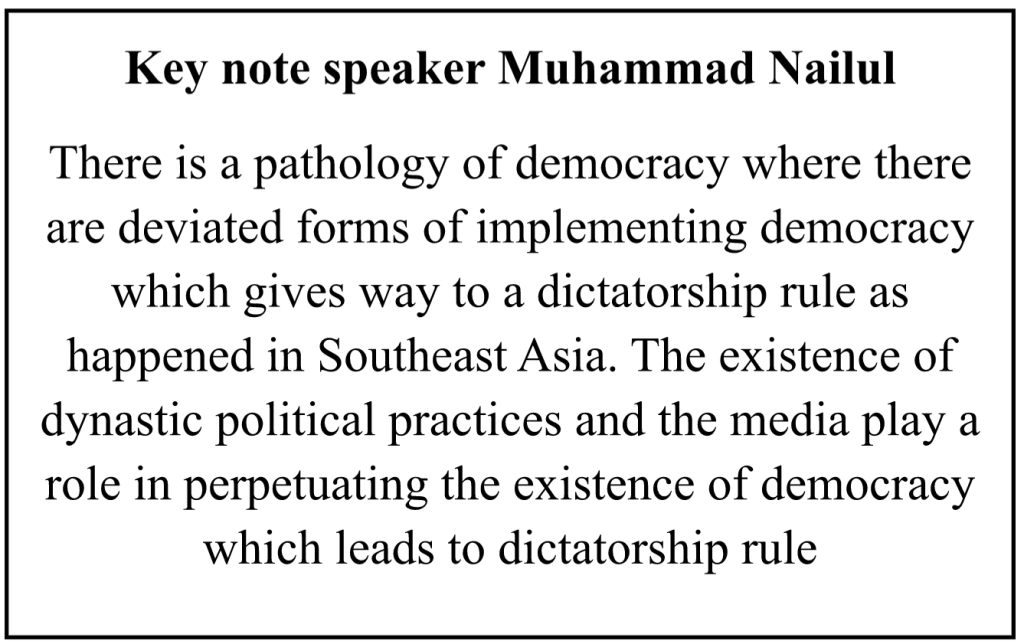 The discussion takes the two Southeast Asia countries as a reference to the case of deviant democracy which is authoritarian formed and carried out through the political dynasty. The Philippines as the first country is discussed by looking at the political pattern of the Marcos Family, where president Marcos SR serves as president of the Philippines for 21 years, and in 2022 the Philippine presidential rally will be continued by his son Marcos JR. Indonesia as the second country is discussed by looking at the political pattern of authoritarian developmentalism carried out by Soeharto while serving as president of Indonesia for 30 years, while the political style of the Soeharto dynasty is not visible in the world of politics but in the economic field through the distribution of wealth of Indonesia developmentalism policy.
The failure of democracy caused by the family dynasty referred to as Craston said to be a form of questioning the legitimacy of the country's democracy. In practice, the big name of a family serves as a tool to identify a political figure. On this matter, the rotation of positions offered in the democratic system only revolves around certain figures and reflects the lack of openness shown by the presence of alternative political figures. This condition is worsened by the use of social media as a means of producing information and propaganda by spreading and politicization of the family political figures. The media act as a vehicle for providing images, myths, and legends, all of which are aimed to build the image of the political family concerned.
As a closing, Muhammad Nailul suggested that there should be an effort to provide the public with the necessary knowledge so that people are always cautious about all forms of information spread on the internet. To fill this role, according to Nailul, a neutral media is needed in producing and articulating information received by the public.
By : Ilham Ramadhan and Tom Bartley