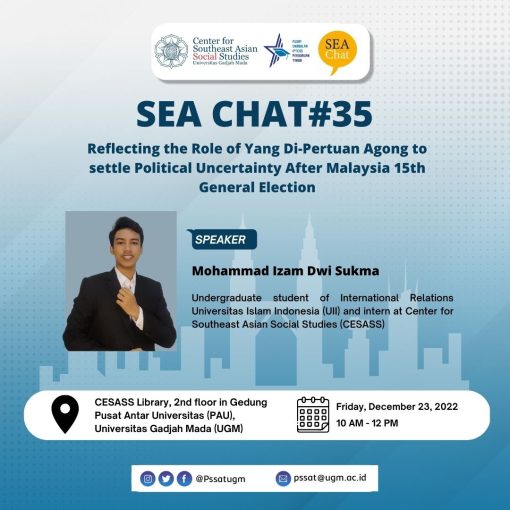 The Center For Southeast Asian Social Studies of Universitas Gadjah Mada (CESASS UGM) continues to hold the 35th Southeast Asian Chat (SEACHAT) on 23 of December 2022.  This panel discussion was presented by Muhammad Izam Dwi Sukma, CESASS UGM Student Intern from Islamic University of Indonesia. On this occasion, Izam presented his research titled "Reflecting The Role of Yang Di Pertuan Agong to Settle the Political Uncertainty After Malaysia 15th General Election."
The discussion began with an overview of Malaysia. Starting from its Monarchy government and the political structure. Then he continued to elaborate the conditions of the Malaysian Government prior to the holding of the 15th General Election (GE) on 19 November 2022, after the parliament suspension and the resignation of previous Prime Minister (PM), Ismail Saabri Yakob. Izam underlined that before the 15th GE was held, Malaysia's political condition could be considered unstable, because there have been three changes of prime ministers in the last 4 years.
Although the 15th GE was held, it did not immediately make Malaysian politics stable as before. Because no single party met the requirement of 112 minimum seats in parliament, it was difficult to determine the PM candidate. After various discussions, the Yang Di-Pertuan Agong finally gave the order to hold a grand coalition between parties to get  PM candidates. After several processes were conducted, Anwar Ibrahim was elected as the PM of Malaysia on November 24, 2022.
According to Izam, Yang Di Pertuan Agong managed to overcome the uncertainty of Malaysia's politics due to five days of government suspension. His opinion is based on the social contract theory by John Locke that is reciprocal with Yang Di Pertuan Agong approach. From the theory, it can be concluded that the Yang Di Pertuan Agong as Head of State provides transparency to his people. As a return, the people put their trust in the Yang Di Pertuan Agong to restore Malaysia's normal political situation. Izam also emphasized the importance of lawfully-governmened, consensus and openness as a way out of political uncertainty in a country.
The SEACHAT session #35 wrapped up with questions from participants who attended offline at the CESASS UGM Library on the 2nd floor. As a presenter, Izam also asked questions to the participants. With SEACHAT #35, CESASS UGM hopes that in the future the SEACHAT agenda will become an academic discussion forum for those interested in issues surrounding Southeast Asia.
By: Farah Diana Patcha