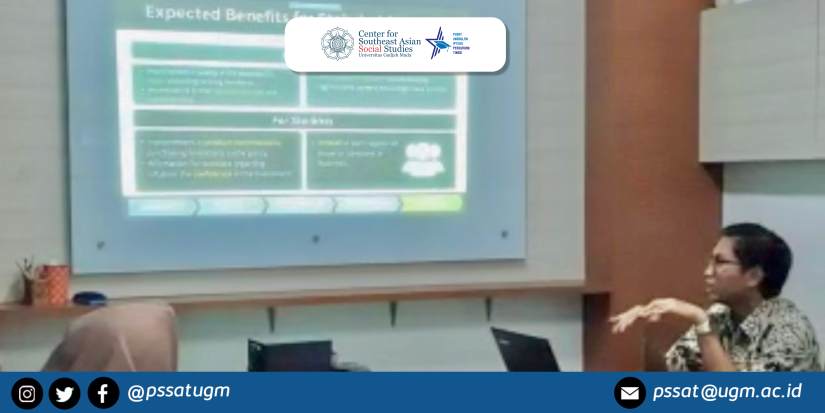 Last Friday (3/3), a weekly agenda known as the "sharing session" was held for CESASS internship students. The speaker for the week was Wiweko Rahadian Abyapta, an undergraduate student from the Faculty of Law at Universitas Gadjah Mada, who is also an intern from the first batch of this year. Wiweko presented a topic titled "Sustainable Agriculture in the Philippines" from a policy-making perspective. He shared this topic because he won Best Policy Paper at the Young ASEAN Leaders Policy Initiative 2023.
During the session, Wiweko presented his policy proposal entitled "PAG-ASA: Philippines Advanced Guide to Sustainable Agriculture". At the beginning of his presentation, Wiweko explained the current state of agriculture in the Philippines and the definition of food security. To support his explanation, Wiweko displayed infographics depicting statistics on food insecurity in the Southeast Asia region, as well as price fluctuations related to food imports in the Philippines.
After giving the background of the situation, Wiweko shared the details about his proposed policy, "PAG-ASA". Basically, "PAG-ASA" is a proactive policy that seeks to enhance agriculture in the Philippines. It employs a data system to assist farmers, stockists, and sellers throughout the country's agricultural supply chain, improve food price control, and offer support to farmers, especially during times of crisis, such as the post-COVID-19 era. 
This policy consists of four phases of implementation that last for 36 weeks. The phases include establishing the data system and educating farmers, collecting data, conducting market analysis, and controlling prices. At the end of his presentation, Wiweko explained the expected outcomes, which will benefit several stakeholders, including farmers, stockists, governments, and consumers. He also conducted a strength and weakness analysis of the policy before he concluded his presentation. 
The session following the presentation was a group discussion with the audience. Although none of the audience came from an agricultural background, the whole session was still dynamic as everyone provided their perspectives on a wide range of agriculture topics, such as the use of technology in the agriculture industry, stereotypes towards farmers, the conditions of traditional farmers, and so on. 
During the discussion, Wiweko, as the speaker, also cross-checked the phenomena mentioned by the audience. The discussion was also supported by the presence of an intern from the Philippines, Shynna, who shared a lot about the conditions of farmers and agriculture policies in her hometown area. 
By: Luthfiana Nur Rofifah