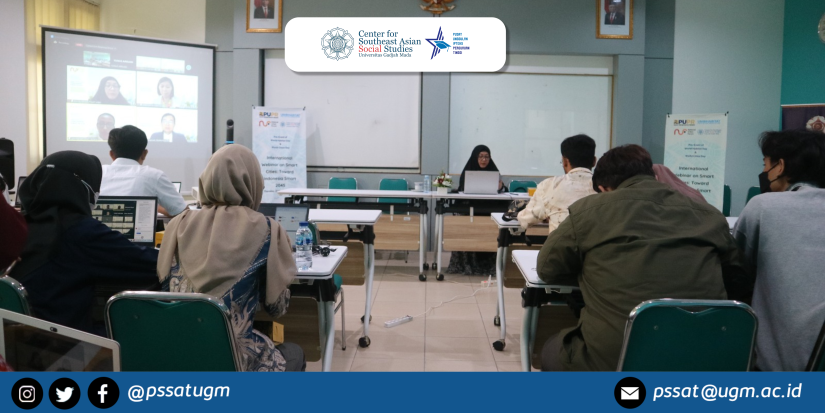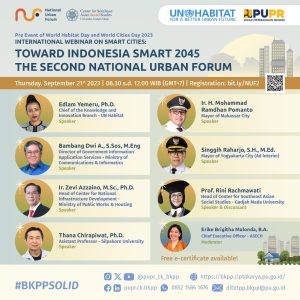 Thursday, September 21, 2023, the "International Webinar on Smart Cities: Toward Indonesia Smart 2045 The Second National Forum" was held, in collaboration between the Ministry of Public Works & Housing and UN Habitat, together with the Center for Southeast Asian Social Studies (CESASS) Universitas Gadjah Mada. The event was attended by Edlam Yemeru, Ph.D. (Chief of the Knowledge and Innovation Branch – UN Habitat), Dwi Elfrida Martina (Ministry of Communications & Informatics), Ir. Zevi Azzaino, M.Sc., Ph.D. (Head of Center for National Infrastructure Development – Ministry of Public Works & Housing), Thana Chirapiwat, Ph.D. (Assistant Professor – Silpakorn University), Ismawaty Nur (Head of Agency of Communications & Informatics of Makassar City), Agus Tri Haryono, S.T., M.T. (Head of Development Planning Agency at Sub-National Level of Yogyakarta City) as speakers. Acted as speaker and discussant, Prof. Dr. Rini Rachmawati, S.Si., M.T. (Head of CESASS UGM) and moderated by Erike Brigitha Malonda, B.A. (Chief Executive Officer – ASECH).
The first speaker, Ir. Zevi Azzaino, M.Sc., Ph.D., brought up the topic of Smart Cities Planning and Implementation toward Indonesia 2045. Zevi's presentation focused on National Urban Policy Mission to achive in 2045 and National Urban Development Project (NUDP) as platform for urban transformation in Indonesia. There are four principles to develop sustainable infrastructure towards smart cities: environmentally sound, economically viable, and socially acceptable.
The second speaker, Dwi Elfrida Martina, highlighted the basic design of smart city is to identify problems: Poverty, Insecurity, Unhappiness, Public trust, Low ethics, then find the gap that can be developed. Each mission should be done in a SMART way: Specific, Measureable, Aggressiveness, Realistic, Timebound. Smart City 4.0 focus in Collaboration and Cooperation in order to reach the aim of it. Smart City is a concept of regional management through innovative and integrated efforts, instead of just e-Government, Branding, and ICT Project. Important to remember, that Smart City is not only government effort but also collaboration with non-government institutions to benefit the society.
The third speaker, Edlam Yemeru, Ph.D., brought up the topic of People-Centered Smart Cities and the need for multilateral cooperation. The opportunities for sustainable and smart cities can be more efficient, transparent, and accountable. There are five pillars of people-centered smart cities, such as community, digital equity, infrastructure, security, and capacity. UN Habitat commit to adopting a smart city approach and make information communications technologies accessible to the public so they mandated to devise a guidelines for shaping smart cities, build strategies, and regulations.
The fourth speaker, Agus Tri Haryono, S.T., M.T. presented best practices of Yogyakarta City on implementing smart city concept. Collaboration of pentahelix stakeholder is needed to realize smart city through Gandeng Gendong: 5K Synergy (Kampung/Village, Kampus/Campus, Pemkot/City Government, Korporat/Company, Komunitas/Community), including partnerships with external parties with the CSR Forum. One of the application innovation by Yogyakarta City Government is Jogja Smart Service (JSS), as a virtual city hall with the concept of Single ID, Single Window, Single Sign On for all services with real-time data, interactive, tracked, practical, precise and quickly handled. The main highlight of smart city implementation in Yogyakarta City lies in the provision of digital infrastructure, including filtered public Wi-Fi, CCTV, digital ecosystem, and arrangement of pedestrian areas.
The fifth speaker, Thana Chirapiwat, Ph.D., discussed about New Urban Agenda & Smart City Development in Thailand. Thailand started its smart city development since 1992 from the initiative by the Ministry of Science, Technology and Environment. But there is still critical gaps between Thailand's Smart City Development and the New Urban Agenda, such as Inclusivity and Equity, Accessibility and Affordability of Technology, Community Engagement and Participation, Sustainable Resource Management and Environmental Impact, Resilience to Shocks and Disasters, Cultural Heritage Preservation, Data Privacy and Security, and Integration of Multiple Urban Systems.
The sixth speaker, Ismawaty Nur, presented about smart city implementation in Makassar City through Sombere' & Smart Values. The innovations that already running are homecare with telemedicine, tax integrated and digitalized, Makassar virtual economic center, tourism alley, Lorong Wisata, and war room as the cctv of the city.
As the final speaker and discussant, Prof. Rini summarized all the previous speaker's material and explained about Digital Infrastructure, Innovation and Application (ICT Based Public Services), Smart City and Urban Development in Indonesia: Implementation and Challenges, and Smart City Development in SEA: Prospect of Indonesia. Prof Rini noted that in the future it is necessary to accelerate the smart and sustainable urban development toward Indonesia Smart 2045.
Written by: CESASS UGM