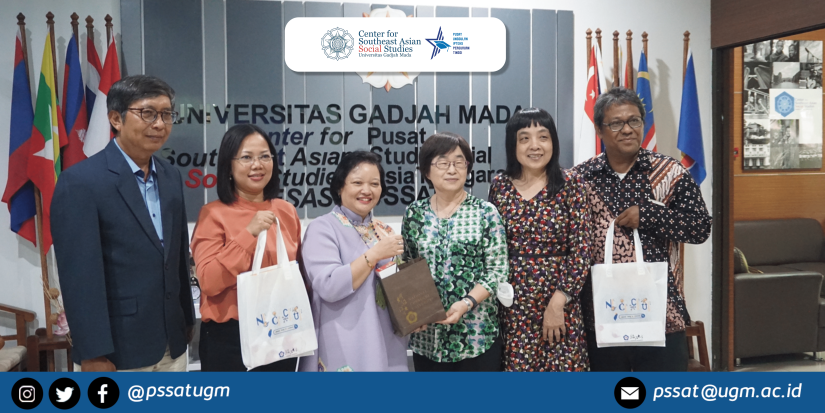 On Thursday (26/01), Center of Southeast Asia Social Studies Universitas Gadjah Mada (CESASS UGM) welcomed representatives from National Cheng Chi University (NCCU), Taiwan, Prof. Heng-Su, Ph.D and Prof. Yao-Chueh Juan. They were receiving warm welcome from Prof. Dr. phil. Hermin Indah Wahyuni, Drs. Muhadi Sugiono, M.A., Dr. phil. Vissia Itta Yulianto, Drs. Muh. Arif Rahman, M.Hum., Ph.D, staff, and intern of CESASS. This visitation initiated 'potential' academic collaboration between NCCU and UGM. 
The initiative collaboration was being opened by introduction of each institute. CESASS was represented by Prof. Hermin, followed by a brief explanation about NCCU by Prof. Heng-Su, then continued by Prof. Juan introducing the Center for ASEAN Socio-Cultural Community Studies (CASCS). Through this brief explanation about each instation's profile, the further discussion talked about joint research plans and other inter-institutional collaboration patterns.
This visitation was then enclosed by a discussion about Southeast Asia, including how ASEAN's scheme may ease the mobility among state parties of Southeast Asia. This discussion led both institutions into promising potential collaboration which this meeting aimed to open a sustainable and long term collaboration 'door' between NCCU and UGM.
Written by: Yumna Amalia Maghfirah