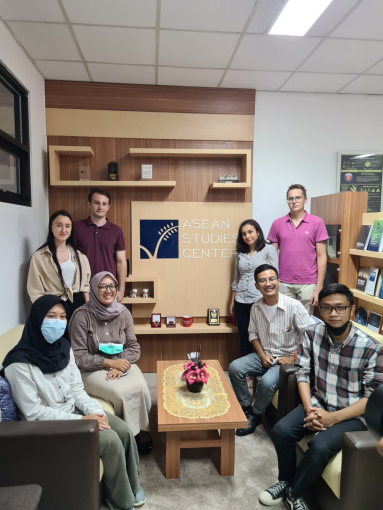 On 14th of September 2022, Center of Southeast Asia Social Studies (CESSAS) paid a visit to ASEAN Studies Center (ASC), a research institution focused on ASEAN at Gadjah Mada University. Located in the Faculty of Social and Political Sciences building on the 2nd floor of room 209 UGM, the visit was carried out as a form of a series of international internship activities at CESSAS.
This visit aims to introduce international interns at CESSAS to one of the research institutions at UGM, especially regarding ASEAN, during the visit consisting of four international interns from Russia and two local interns from CESSAS accompanied by CESSAS Cooperation Staff during the visit to ASC.
ASC is a research institution established by the Directorate General of ASEAN Cooperation, Ministry of Foreign Affairs of the Republic of Indonesia in collaboration with the Faculty of Social and Political Sciences, Gadjah Mada University. ASC is responsible for providing critical and objective assessments of various important issues surrounding ASEAN, as well as institutional arrangements to strengthen ASEAN's role in the three pillars of political and economic security. ASC has a tagline, "Bringing ASEAN Closer to you", which is the Center's effort to bridge the ideas, passions, and programs of the ASEAN community-centered through seminars, research, and discussions. 
During the visitation, Yulida Nuraini Santoso as the Managing Director of ASC, welcomed all of CESASS Interns warmly, and gave a brief introduction about ASC, starting from its staff, programs, and publications. She mentioned ASC programs such as ASEAN Ambassadorial Lecture, Bincang ASEAN, AYIEP, ICONAS, and internship. Besides, she also explained about ASC's publications: working papers, policy briefs, books, and other research publications. Furthermore, she stated that ASC is currently open submission for its program "ASEAN Notes" which gives an opportunity for scholars who are focused on ASEAN.
The introduction was closed with a sharing session between ASC staff and CESASS Interns about the collaboration opportunities and further planning in the future related to ASEAN studies. Not to mention, both representatives of the institutions exchanged symbolic gifts. Lastly, this visitation surely will bring the relationship between two institutions deeper, while looking for possibly collaboration in the future.
By: Muhammad Nailul Fathul Wafiq & Farah Diana Patcha