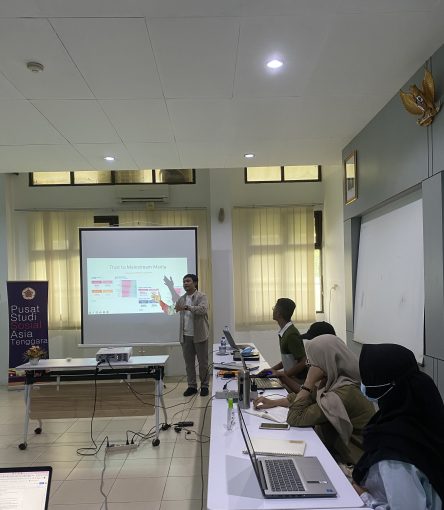 Written by: Dmitry Svechnikov & Lia Korotkova
On September 30 2022, Wisnu Prasetya Utamo, S.IP., M.A., delivered a lecture on the Media Landscape Indonesia. The lecture was visited the representatives of Center for Southeast Asian Social Studies. The event was sponsored by FISIPOL UGM (Faculty of Social and Political Sciences UGM) and aimed at increasing the awareness about the work of the media in Indonesia. 
Wisnu put the issue into a broader perspective and gave the context of the work of the media. He told about the system of media as well as the kinds of media, distinguishing between state and non-state media groups. Besides, Wisnu touched upon the biggest media holdings and their main characteristics. According to Wisnu, nowadays mass media in Indonesia have to face quite a few challenges. Among them are the lack of funding for local media, political bias in the interests of this or that political party or corporation. 
Then, he provided the audience with sociological analyses on such issues as trust to mainstream media and the frequency of usage various types of media. According to the professor, the most top-rated social media in Indonesia are WhatsApp, Youtube and Facebook. Nowadays, 88% of Indonesian people receive news online, compared to 74% of users TV and print media. 
Students from MGIMO University (Moscow, Russia) also shared their view on the media landscape in Russia. It is always useful to analyze and compare the peculiarities of media landscape in different countries.
All in all, the event was held in a cordial atmosphere of mutually beneficial cooperation and constructive inter-university dialogue.