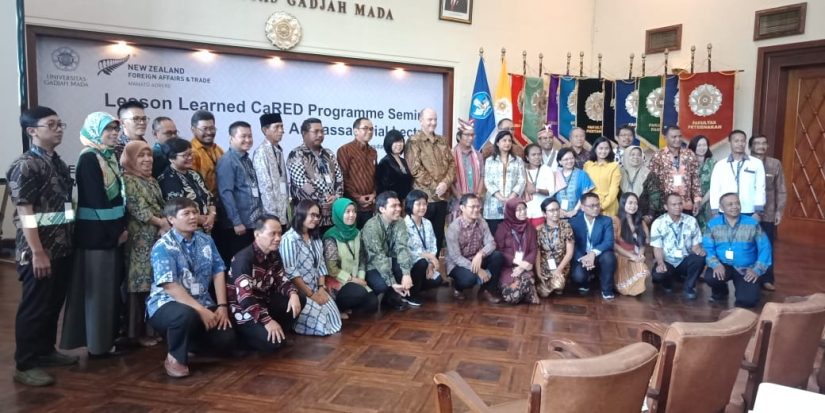 The representatives from the Center for Southeast Asian Social Studies (CESASS) UGM attended the Lesson Learned CaRED Programme Seminar & Ambassadorial Lecture at the UGM Senate Hall on Thursday (02/13/2020). This programme was initiated by the Ministry of Foreign Affairs and Trade of New Zealand in collaboration with UGM. The session was filled with presentation of the results of research grants in Eastern Indonesia and a public lecture by the Ambassador of New Zealand to Indonesia, H.E. Dr. Jonathan Austin.
One of PSSAT researchers, Drs. Muhadi Sugiono, MA, presented the results of research on "Women and Local Conflict Resolution in East Nusa Tenggara". This research focuses on the role of women in dealing with mining-related violent conflicts in East Nusa Tenggara. In his presentation, Muhadi talked about the team's efforts to blend with the locals such as living in the village for up to one month. In the collaboration with the Auckland University of Technology, Muhadi and the team proposed training and empowerment programs based on women's rights. Muhadi, as the conflict resolution expert especially in the ASEAN region, emphasizes the importance of understanding traditional ways of life that can influence research results. "This is new to me, that conflict resolution can be resolved through understanding the way of life of the local people," he said.
The Community Resilience and Economic Development (CaRED) program aims to contribute to the sustainable development in Indonesia, including human resources and capacity. For almost 10 years this program has been running in various regions in Eastern Indonesia. There are a total of 13 research grants that also worked with local governments to produce innovative products such as analog rice, geothermal utilization, public policy reforms, and others. This year will be the last year for CaRED Programme implementation. It is hoped that the collaborative innovation programme which will be realized in the form of research and academic collaboration between universities and other stakeholders also the community can continue and contribute to the development of Indonesia.