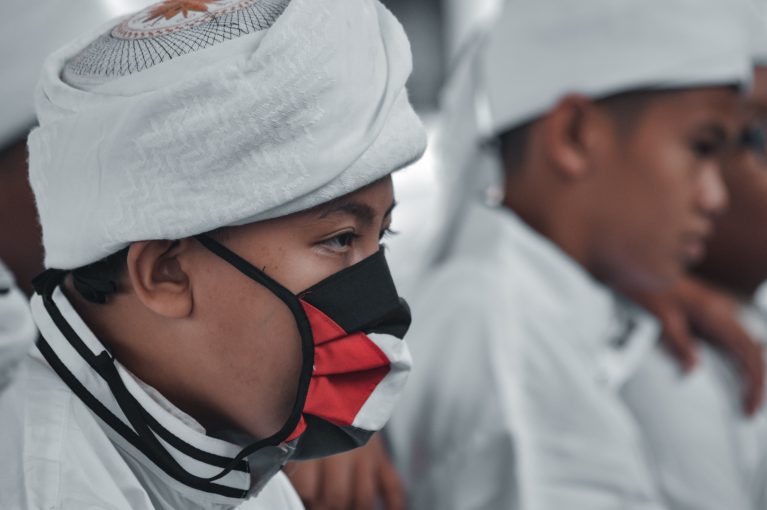 Terrorism is often an act of violence, or threat to act, that is politically or religiously charged. A true worldwide definition of terrorism does not currently exist, yet there are specific characteristics that we can link to the concept. One of the struggles of understanding terrorism in academic debates stems from the lack of a solid definition. It has been argued by many scholars that such a definition cannot ever exist (Jackson et al. 2011). Difficulties scholars have agreeing on a definition of terrorism come from it being contextually determined, and definitions in this area can often include political bias. Over-generalized definitions are mostly what we have been left with around the world. Indonesia's Anti-terrorism Law (ATL) of 2002, gives a description of terrorism. This law does not define terrorism in any strict sense but instead claims that the crime of terrorism can be any act that fulfils elements of the crime under this law. There are critical terms left undefined and therefore subjective to various interpretations, such as 'widespread atmosphere of terror or fear'. Widespread is not defined to a radius, neither is fear define to a degree. The vague terms included in this description has been criticized for being applicable to various cases that may not involve terrorism (Butt, 2008). A lecturer at Murdoch University, Dr Ian Wilson (2020), argues that there are no terrorist organizations, there are only political groups that use terrorism as a tactic. This is important to understanding the link between terrorism and politics in Indonesia. The motives of these groups are politically charged and stem from a discomfort with Indonesian democracy.
There was much debate about the security of Indonesia being threatened with the release of Abu Baker Ba'asyir early this year. Jones (2019) argues that his release is unlikely to suddenly increase the risk of terrorism in Indonesia. However, he is still very much able to preach radical ideas and is under no restrictions from doing so. In 2014, while in prison, Ba'asyir pleaded his allegiance to the Islamic State and its leader Abu Bakr al-Baghdadi. According to Jones (2019), President Joko Widodo's decision to release him violated standard regulation when Ba'asyir did not need to sign a loyalty pledge to the government. 'It would seem to violate Regulation 99 of 2012 from the Ministry of Law and Human Rights, which makes the early release for certain categories of offenders, including convicted terrorists, contingent on their willingness to sign a written loyalty oath to the Indonesian government' (Yulisman, 2019). Abu Baker Ba'asyir was exempt from signing. This shows a political weakness in the fight against terrorism. While the security of Indonesia is seemingly not threatened by his release, the political leaders have undermined the regulations that actively contribute to counterterrorism measures through de-radicalization.
Radical political groups and terrorism acts undermine the political sphere and create security issues in Indonesia. The continued pressure from political Islam has been a developing issue in Indonesia for many years. Radical Islamist groups continue to create fear through terror tactics around Indonesia and political Islam threatens Indonesia's democracy. The Indonesian government has limitations, and they have fallen short when it comes to dealing with terrorism. Indonesia was a presentation of democratic transition for many years, especially for countries like them with large Muslim populations. Liberalism and perhaps even tolerance in Indonesia can be seen to be under threat. Tim Lindsey in his article 'Retreat from Democracy: The Rise of Islam and the Challenge for Indonesia' (2018), argues that liberal democracy is in contest with Muslim conservatives. He points out the paradox that the voices of tolerance which sought to present Indonesia as a Muslim Democracy now face opposition from Muslim conservative intolerance empowered by that very democracy.
Within the Muslim community in Indonesia there is a battle between moderates and conservatives over the essence of Islam and its presence in political and social structures, institutions, and culture. As Shira Loewenberg (2018) argues, there are two very different futures for Indonesia that are fought for by the two sides. The moderate side fights for Indonesia's democracy, and religious freedom, while the conservative side fights for an Islamic state, governed under Islamic law and opposed to democracy. However, most scholars agree that it is unlikely Indonesia will formally be an Islamic state anytime soon.
In Vedi R. Hadiz's 'Towards a Sociological Understanding of Islamic Radicalism in Indonesia' (2008), he discusses radical Islam as being deeply rooted in contemporary world order. Hadiz makes comparisons between the fear of political islam, with the growing discomfort surrounding the state of democracy in Indonesia. In the past, organized Islam has been a major source of opposition to democracy, and appointed leaders. This pressure continues to threaten democracy, while being given a platform to speak by that very democracy. Blasphemy laws in Indonesia are just one example of political Islam being put at an advantage by democracy (Connelly & Busch, 2017).  The jailing of Ahok, the Jakarta governor, in 2017, demonstrates the problem. President Joko Widodo and his government struggled to respond effectively. They can be argued to have been intimidated by the attacks on the governor and the calls for ending Jokowi's presidency as well. The governor lost his election and was jailed under blasphemy laws. Islamic values are imposed on laws and norms gradually, such as increasing limitations on free speech, restrictions on clothing and sexuality, as well as the banning of alcohol. As a model for this approach many look to Malaysia (Lindsey, 2018).
The relationship between politics, security and terrorism in Indonesia is grounded in the largely Muslim population, and is threatened by extremists. Politics, including laws and norms, can be seen to be continually being influenced by conservative Islam. Threats from terrorism are very real, and undermine the security attempts made by the Indonesian government.
References
Butt, S. (2008). Anti-Terrorism Law and Criminal Process in Indonesia. ARC Federation Fellowship 'Islam And Modernity: Syari'ah, Terrorism and Governance in South-East Asia'. Retrieved from https://law.unimelb.edu.au/__data/assets/pdf_file/0010/1546327/AntiTerrorismLawandProcessInIndonesia2.pdf
Connelly, A., & Busch, M. (2017). Indonesian democracy: Down, but not out. Retrieved 28 January 2021, from https://www.lowyinstitute.org/the-interpreter/indonesian-democracy-down-not-out
Jackson, Richard, Lee Jarvis, Jeroen Gunning, and Marie Breen Smyth. 2011. "Conceptualizing Terrorism". In Terrorism: A Critical Introduction, 1st ed., 99-121. Palgrave Macmillan. https://content.talisaspire.com/murdoch/bundles/5bfcf2e6540a2630f54558e4.
Jones, S. (2021). Indonesia: releasing Abu Bakar Ba'asyir wrong on all counts. Retrieved 12 January 2021, from https://www.lowyinstitute.org/the-interpreter/indonesia-releasing-abu-bakar-ba-asyir-wrong-all-counts
Lindsey, T. (2018). Retreat from democracy? The rise of Islam and the challenge for Indonesia. Australian Foreign Affairs, (3), 69-92.
Loewenberg, S. (2018). Threats to Indonesia's Democracy. Retrieved 21 January 2021, from https://www.ajc.org/news/threats-to-indonesias-democracy
Vedi R. Hadiz (2008) Towards a Sociological Understanding of Islamic Radicalism in Indonesia, Journal of Contemporary Asia, 38:4, 638-647, DOI: 10.1080/00472330802311795
Wilson, Ian. "Introducing the unit & the challenges of conceptualizing terrorism" [lecture]. In Pol 234: Terrorism in a Globalized World, Murdoch University, 27 February 2020.
Yulisman, L. (2019). Indonesia president orders review of planned release of radical cleric Abu Bakar Bashir. Retrieved 13 January 2021, from https://www.straitstimes.com/asia/se-asia/indonesia-president-orders-review-of-planned-release-of-radical-cleric-abu-bakar-bashir
---
About the author:
Megan Connelly was a participant of Development Studies Professional Practicum (DSPP) Virtual Internship at ACICIS Indonesia. As part of this program, she also conducted an online internship in PSSAT (Pusat Studi Sosial Asia Tenggara or CESASS (Center for Southeast Asian Social Studies) UGM on January 8th – February 12th, 2021.