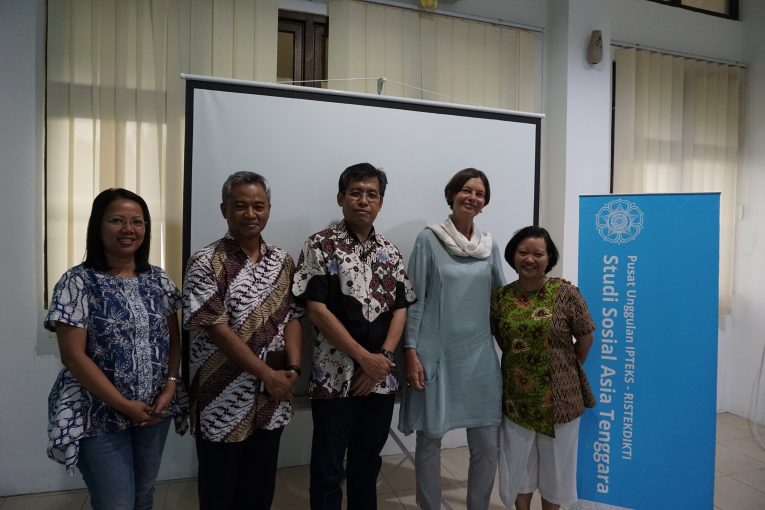 Indonesia as one of the countries that is very vulnerable to natural disasters is considered to require socialization to handle them. In fact, not all sections of society in this country are able to accept the socialization held by the government. Therefore, PSSAT UGM held a discussion titled  "Community Resilience on Maritime Disaster in Indonesia" with Dr. Rahman Hidayat, assistant deputy of Assistant Deputy of Infrastructures for Shipping, Fishery, and Tourism of Coordinating Ministry for Maritime Affairs, and Dr. Widjo Kongko at PSSAT UGM Library (16/03/18). The discussion in the afternoon was also attended by Prof. Dr. Judith Schlehe, Professor of Social and Cultural Anthropology at the University of Freiburg, Germany, some researchers from PSSAT, and academics.
On this occasion, Dr. Rahman Hidayat presented his research results when postdoc with topic of Maritime Disaster Research Strategies: Exploring Climate Change Impacts in Asia-Pacific. Dr. Rahman Hidayat admitted that his warning against disasters in some areas in Indonesia was always ignored. Therefore, he considers that it affects people's preparedness in facing the disasters in these areas. In fact, Dr. Rahman Hidayat admitted that he and his team have been very scientifically mapping disaster in the regions in Indonesia.
Therefore, Dr. Rahman Hidayat considers that this phenomenon proves that social-humanities scientists and technics need to jointly tackle the disasters. He claimed in technics, research methods commonly used is a quantitative method. Without using the perspective of the local population, he and his team admitted that it was difficult to approach the community, even related to prevention and preventive measures against disasters.