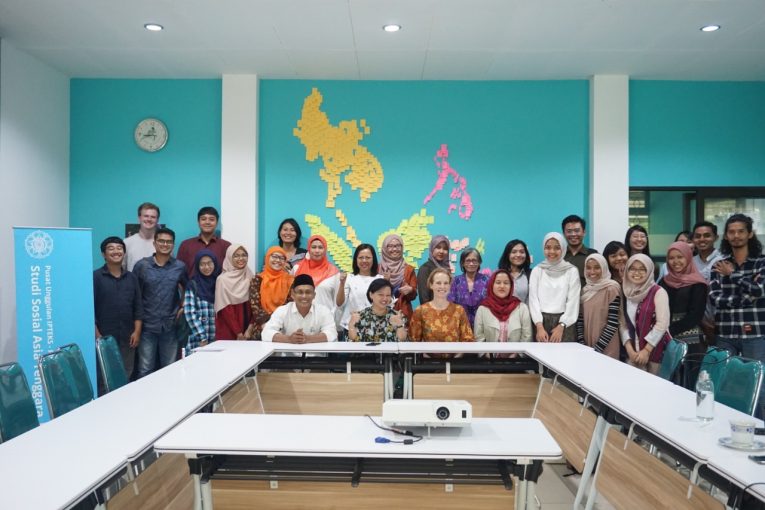 The Center for Southeast Asian Social Studies (CESSAS) UGM held SEA TALK #31 "Digital Literacies of Indonesian Secondary Students: What Have We Learned" with Jayne C. Lammers, Ph.D (University of Rochester USA) and Puji Astuti, Ph. D (UNNES). The research presentation on Friday (07/02/2020) was welcomed enthusiastically by the participants in an interactive discussion.
In this monthly discussion, Lammers and Puji explained the results of their latest research on digital literacy in the learning of Indonesian secondary students. Research under the FULLBRIGHT program from the United States government has been started since September 2019. There were 618 student respondents from 3 junior high schools and 4 senior high schools from city and districts in Semarang. The focus is on teaching Information Communication Technology (ICT) in the classroom. In their presentation, the two researchers explained that the study was conducted with a collective case study of explanations using a mixed-method.
Lammers and Puji explained that there were many surprising findings during the 5 months of the study. "We were surprised to know that what are taught in schools is different from what students expect. For example, students are taught about hardware and Microsoft offices, whereas what they expect is greater. Like coding, making applications, games, to video editing," said Lammers, lecturer, and researcher from the United States.
At the end of the presentation, the two researchers hoped that their findings, along with the proposed research topics, could be continued into new researchs by Indonesian participants and researchers. "Of course we hope that the results of this study can become policy recommendations for better Indonesian education," added Puji.
SEA Talk is a monthly discussion forum that discusses historical, social, political, economic, cultural, technological and human rights issues in Southeast Asia. CESSAS UGM routinely invites researchers and academics to share knowledge and is open to be attended by the public. With a forum that has a variety of topics and scientific perspectives, CESSAS hopes that the public can be better prepared to face the complexities of life in the future, especially those related to the existence of Indonesia as a community in Southeast Asia.