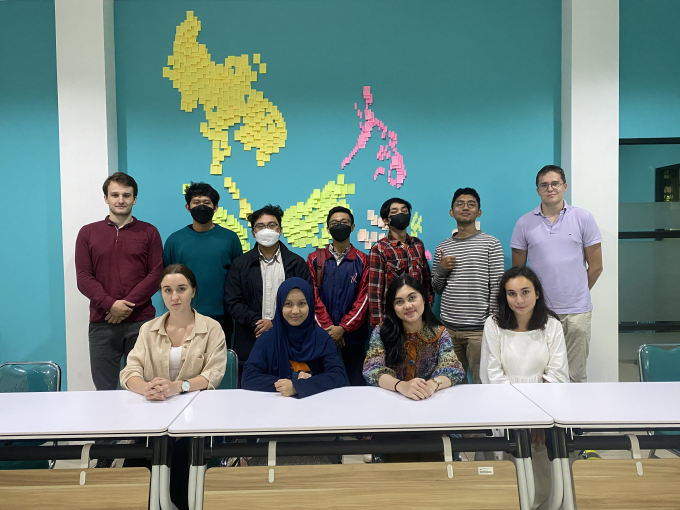 On Tuesday (18/10), Center of SouthEast Asian Social Studies (CESASS) held a sharing session by buddy about Indonesian Fauna. This sharing session was attended by CESASS interns both local and russian. The sharing session was presented by Dinda Bariqul Zahfa and Lyska Coyoga as interns at CESASS. The material is divided into three parts such as; brief history and theories, each characteristic of fauna type along with an example, and their various habitats.
Dinda Bariqul as the first presenter explained the history of the distribution of fauna in Indonesia. The territory of Indonesia was not what it is now, but separated and united with other big continents, namely Eurasia (present-Asia) and Australia. This has an impact on living things, both flora and fauna in Indonesia, which have a high level of diversity. Alfred Russel Wallace made an imaginary line to separate fauna that have Asiatis and Australis types. Max Carl Wilhelm Weber then found that the central part of Indonesia had a special type of fauna and drew an imaginary line again to separate it from Asiatis and called it the "Transitional" area.
The next session was continued by Lyska Coyoga, presenting about characteristics and examples of fauna of the asiatis type. Asiatis type fauna is located on the islands of Sumatera, Java, Kalimantan (Borneo), and Bali. Having characteristic features of mammals that are large in size, many types of primates and the color of birds is less attractive. Examples of fauna, not commonly heard of are Sumatera Tigers, Elephants, Sumatera Bulls found on the island of Sumatera. Javanese Eagles are endemic to Java Island, Jalak Bali which are only found in the forests of the western part of Bali Island and Murai Batu which are almost spread on the islands of Sumatera to Java. Fauna on the island of Kalimantan there are Orang Utan and Bekatan which are scattered in mangrove forests, swamps, and coastal forests.
Transitional type fauna is characterized by rare, endemic or only found in certain areas, not hairy, and some animals have certain uniqueness. Examples of endemic animals are the Komodo Dragon which only lives on Komodo Island and Anoa which is only found on Sulawesi and Buton Island. Other famous animals are Tarsiers, Babi rusa, Maleo Birds, and Sulawesi Hornbills. The fauna of the Australis type has the characteristics of being small, not many freshwater animals, many types of birds, and there are marsupials. Some animals of this type can also be found in Australia such as Kangaroos, Koalas, and Wallabies. Other animals with an Australis type are Birds of Paradise, Papuan Porcupines, King Cockatoos, and Cabaret Parrots.
The sharing session was closed with a discussion session between the presenters and audiences.
By: Lyska Coyoga & Dinda Bariqul Zahfa