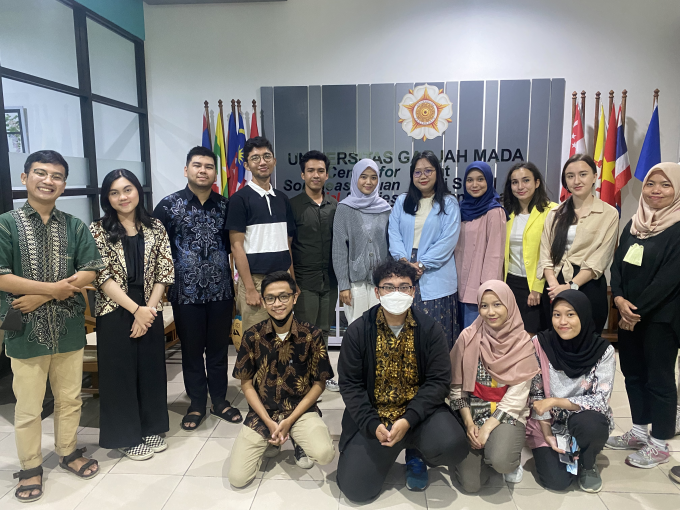 On Wednesday (09/21), the Center for Southeast Asian Social Studies at Gadjah Mada University (CESASS UGM) held an Indonesian student interns sharing session with Russia MGIMO student interns. In this session, Muhammad Nailul Fathul Wafiq (Universitas Islam Indonesia) and Farah Diana Patcha (Universitas Muhammadiyah Yogyakarta) as the International Relations students presented their knowledge about Indonesia's Foreign Policy, including Indonesia's role in ASEAN, to other interns. Both presenters shared their opinions and insights on Indonesia's Foreign Policy, especially on Joko Widodo's Presidency era.
Nailul opened the sharing session by explaining "Bebas Aktif" as Indonesia's foreign policy principle which was introduced by Mohammad Hatta, the Vice President of Indonesia in the Orde Lama era, also known as the Father of Indonesia's Diplomacy. This principle brings Indonesia to a peculiar position in international politics because Indonesia became a Non-Aligned Movement (NAM) along with the other anticolonialist countries. 
After explaining the "Bebas Aktif" principle, he moved to Indonesia's foreign policy journey, starting from the Soekarno presidency in the Orde Lama era. This era was the beginning of Indonesia's diplomacy move, along with the relationship with Southeast Asia countries which started with the establishment of Indonesia's Embassy office in Bangkok & Singapore in 1950. He continued to introduce Indonesia's foreign policy journey by explaining diplomacy during each presidency era briefly until the Megawati era. 
Farah as the next presenter explained the "Million Friends, Zero Enemy" concept of Indonesia's foreign policy under the Susilo Bambang Yudhoyono (SBY) era. As Indonesia's leader, SBY showed his leadership by actively participating in international activities, even hosting international forums in Indonesia. Furthermore, she also pointed out Indonesia's role under SBY leadership in the ASEAN presidency back in 2011. Those actions were strategies from SBY's governance to restore Indonesia's leadership image which receded due to domestic conflicts that happened in Indonesia. 
After the presentation from Farah, Nailul again presented the vision of Indonesia's foreign diplomacy in the Joko Widodo era, namely "Diplomasi Membumi" which is oriented toward people's welfare through diplomacy.
In addition, Nailul also explained Indonesia's relations abroad in the future through several foreign agreements that have been established such as RCEP (Regional Comprehensive Economic Partnership), IPEF (Indo-Pacific Economy Framework) and others also explained Indonesia's position and what impact it had on Indonesia. The end also explains Indonesia's Vision and Mission as ASEAN Chairmanship, namely Recovery Building, Digital Economy, and Sustainable Finance.
The Sharing Session was closed with a question and answer session, along with discussion between the presenters and participants regarding Indonesia's foreign policy. Indonesia has an interesting foreign policy to study because of its "Bebas and Aktif" ideology. This principle makes Indonesia not dependent on a party and is always free to cooperate for the sake of achieving prosperity. The dynamics of each Indonesian president regarding foreign policy allows us to understand Indonesia foreign policy's flow. Furthermore, Indonesia's strong position in ASEAN makes ASEAN also a neutral and active party following the concept of being "Bebas Aktif". With Indonesia's political change in 2024, it will be interesting to see Indonesia's foreign policy in the new presidential era.
By: Farah Diana Patcha & M Nailul Wafiq