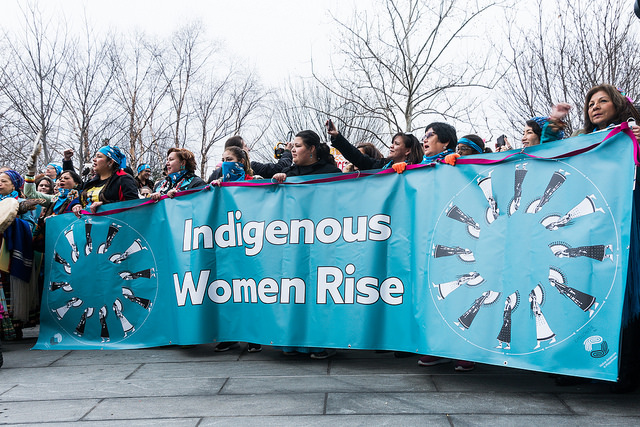 The Universal Declaration of Human Rights (UDHR) adopted in 1948 by the international community,proved that human rights  were being accepted as universal norms that needed to be respected, protected, and promoted. The phrase in the UDHR "All human beings are born free and equal in dignity and rights" means that  everyone is equal in claiming their rights without distinction. This is supported by the first paragraph of the Vienna Declaration and Programme of Actions preambular, where it recognizes human rights as a universal norm by stating that "All human rights are universal, indivisible and interdependent and interrelated." UDHR as a foundation of international treaties later became the foundation of other international human rights instruments including Convention on the Elimination of All Forms of Discrimination against Women (CEDAW). The existence of CEDAW in international law marks the importance of protection and promotion of women's rights and gender equality between men and women, but in the process of gender equality to some women it is more challenging especially to women from minority communities, like indigenous women. Report from the United Nation (UN) special rapporteur on violence against women by Reem Alsalem stated that indigenous women and girls experienced systematic discrimination in indigenous and non-indigenous justice system (United Nations Human Rights Office of the High Commissioner, 2022). Furthermore, the Human Rights Committee in their General Comment No. 28, art. 3 highlight that the inequality of the enjoyment of rights by women is deeply embedded in tradition, history and culture including religious attitudes. 
UDHR ensures that everyone including indigenous women deserve equal rights, art. 1 and 7 of UDHR contain the principle of equality and non-discrimination, and in art. 2 of UDHR prohibits any kind of distinction on the fulfillment of human rights on the basis of sex. Prohibition of discrimination on the basis of sex can also be found in the International Covenant on Civil and Political Rights (ICCPR) art.2 and International Covenant on Economic, Social and Cultural Rights (ICESCR) art. 3. Declaration on the Elimination of Violence against Women art. 3 stated that "Women are entitled to equal enjoyment and protection of all human rights and fundamental freedom in the political, economic, social, culture, civil or any other field..", the enjoyment and protection of rights mentioned in art.3 including the right to equality, the right to be free from all forms of discrimination. 
Culture has two sides in human rights aspects, it can be the reason for human rights violation, but it can also protect human rights. A report of a special rapporteur, Farida Saheed on enjoyment of cultural rights of women on an equal basis with men in 2012 stated that there are many practices and norms in society that discriminate against women and it is justified by culture, religion and tradition. Leading experts also stated that social groups mostly suffered human rights violations in the name of culture (Celorio, 2022, pp. 320-231). 75 years since the universal norms of human rights were established and 42 years since CEDAW was instituted, these norms and rights are still not applicable to some indigenous communities because of their cultural beliefs. The reality of equality of human rights to women and men are different in the context of indigenous people. The importance of culture is often mentioned in the establishment of international law, but there is still a gray area of cultural practice and women's rights. 
In Maluku there are the Nualu indigenous people, who are one of many examples of indigenous people in Indonesia. Nualu is an indigenous community located in Seram Island, Maluku. Women's position in Nuaulu's social system is considered lower than men, this is because in Nualu, women are considered dirty due to experiencing menstruation. Posune is a local culture from generation to generation in Nuaulu where women who are menstruating or about to give birth are sequestered in a house called Posune. Posune is located on the side or back of the main house. Posune is a forbidden area for men, if a man approaches or enters the Posune even though it is empty it is considered a sin and will be subject to sanctions in the form of being ostracized from the community and in the form of fines set by the customary head. Posune applies to unmarried women and married women. A married woman in the Nuaulu community when she is menstruating she is not allowed to have physical contact with her husband, on the other hand the woman is allowed to cook for her husband, but is not allowed to deliver it directly to her husband. Women in the social system of the Nuaulu community cannot become leaders even if they have menopause, women can only help but are not allowed to sit in positions. The Nuaulu customary system has been passed down from generation to generation, stipulating that women should not become leaders of men (Nina, 2012).
The culture and traditions of Nualu indigenous communities according to international human rights norms violates the rights of women and violates the principle of non-discrimination and universal human rights law. UDHR recognizes that everyone deserves equal rights, but the international community also recognizes indigenous people and their collective rights. The establishment of Indigenous and Tribal People Convention 1989 marked the recognition of indigenous people and tribunal people by the international community. These international instruments created antinomy on the fulfillment of women's rights and gender equality because on the otherside international community recognize the universal human rights norms, but also recognize indigenous people traditions and culture. This antinomy departs from two perspectives in human rights law theories, namely universalism and cultural relativism. These two theories contradict each other so that there is debate among scholars about these two theories. 
The theory of universalism asserts that every human being has certain human rights because they were born as a human being and it made them inherit human rights. Universalism theory believes that human rights are something that cannot be taken away and are intended to protect human dignity. Universalism theory views that human rights are universal and so must be owned by everyone on the basis of equality is not a controversial matter. The theory of universalism can be found in UDHR (Donders, 2010, pp. 16). Unlike the view of universalism theory, the theory of cultural relativism sees that there is cultural diversity that exists everywhere in the world, including views about right and wrong. This view makes cultural relativism theory assume that universal human rights do not exist and the existence of cultural diversity means that an understanding of human rights can be interpreted differently (Donders, 2010, pp. 16).
 The debate between scholars about universalism and cultural relativism has divided the scholars into those who support universalism and those who deny universalism. The debate of these two theories started in the second UN World Conference on Human Rights in 1993. The debate has been going around on universal human rights norms as a western values that have been forced to non-western countries (Cerna, 1994, pp. 740). The debate of universalism and cultural relativism also depart from women's rights (Higgins, 2017, pp. 97). Those who support cultural relativism argue that feminism is a product of western ideology and global feminism is a form of western imperialism. Cultural relativists argue that the conception of human rights by the universalist ignores the collective rights of indigenous and tribal people (Charters C, 2016, pp. 12). In Asia, the universality of human rights concepts face challenges because of private rights. These private rights related to religion, culture, the status of women, the right to marry and to divorce and to remarry, the protection of children, family planning (Cerna, 1994, pp. 744, 746). The conflict between universal human rights principles and cultural relativism often happen in Africa, Asian, and Islamic values. To address this differential issue scholars like Renteln, Donders, and Donelly proposed a way to reconcile the differences between universalism and cultural relativism which are flexibility in interpretation and implementation of rights, cross-cultural dialogue, and focusing on the process and the actors involved (Vleugel, 2020, pp. 41). 
To strengthen the scholars' opinion on how to address the difference of those two theories, we have to consider the role states play in these issues. CEDAW contains the national effort the state should take to  maintain gender equality. Art 2(f) of CEDAW mentions for  states "to take all appropriate measures, including legislation, to modify or abolish existing laws, regulations, customs and practices which constitute discrimination against women " and art. 5(a) of CEDAW requires states to modify the social and cultural patterns that discriminate against women. Human Rights Committee (HRC) on general comment No. 28 stated that state have the obligation to ensure human rights enjoyment of all individuals and to ensure that states should to all the necessary steps these steps include "…removal of obstacles to the equal enjoyment of such rights, the education of the population and of State officials in human rights, and the adjustment of domestic legislation so as to give effect to the undertakings set forth in the Covenant. The State party must not only adopt measures of protection, but also positive measures in all areas so as to achieve the effective and equal empowerment of women. ".  In art. 3 of ICESCR also highlighted states obligation to ensure the equal rights of men and women.  In general comment No. 28 paragraph 32 it might or might not giving us an answer to the debate between universalism and cultural relativism in the aspect of culture and indigenous women's rights by stating that "The rights which persons belonging to minorities enjoy under article 27 of the Covenant in respect of their language, culture and religion do not authorize any State, group or person to violate the right to the equal enjoyment by women of any Covenant rights, including the right to equal protection of the law. ". 
In conclusion, states have the obligation to respect indigenous people culture, tradition, and their collective rights, but also states have the obligation to make an effort to protect indigenous women's human rights from any violation and discrimination including from the practice of traditions and culture. States playing important rules in the nexus of women's rights and culture. Universalism is important in protecting individual rights, and cultural relativism is important in protecting collective rights. Human rights practice shouldn't overlook the fulfillment of individual and collective rights. States should take appropriate action in fulfillment of individual rights of indigenous women's rights while respecting the collective rights of indigenous people. The protection of all individuals, including indigenous women's human rights, depends on the state's political will. The international human rights instruments will not be effective if there is no political will from states. 
REFERENCES
Book
Celorio, R. (2022). Women and International Human Rights in Modern Times: A Contemporary Casebook. Women and International Human Rights in Modern Times: A Contemporary Casebook (pp. 1–354). Edward Elgar Publishing Ltd. https://doi.org/10.4337/9781800889392.
Nina, Johan. (2012). Perempuan Nuaulu: Tradisionalisme dan Kultur Patriarki. Yayasan Pustaka Obor Indonesia.
Vleugel, V. (2020). Human Rights and Cultural Diversity. Between and Beyond Universalism and Cultural Relativism. In Culture in the State Reporting Procedure of the UN Human Rights Treaty Bodies: How the HRC, the CESCR and the CEDAWCee use human rights as a sword to protect 
Journal
Cerna, C. M. (1994). Universality of human rights and cultural diversity: implementation of human rights in different socio-cultural contexts. Human Rights Quarterly, 16(4), 740–752. https://doi.org/10.2307/762567.
Charters, C. (2016). Universalism and Cultural Relativism in the Context of Indigenous Women's Rights. SSRN Electronic Journal. https://doi.org/10.2139/ssrn.2887711.
Donders, Y. (2010). Do cultural diversity and human rights make a good match? International Social Science Journal, 61(199), 15–35. https://doi.org/10.1111/j.1468-2451.2010.01746.x.
Higgins, T. E. (2017). Anti-essentialism, relativism, and human rights. In Challenges in International Human Rights Law (Vol. 3, pp. 53–88). Taylor and Francis. https://doi.org/10.4324/9781315095905.
Internet
United Nations Human Rights Office of the High Commissioner.  (2022) , End Violence Against Indigenous Women and Girls: UN Expert. https://www.ohchr.org/en/press-releases/2022/06/end-violence-against-indigenous-women-and-girls-un-expert. Accessed March 28th 2023.
Legal Instruments
The Universal Declaration of Human Rights (UDHR)
Vienna Declaration and Programme of Actions
Convention on the Elimination of All Forms of Discrimination against Women (CEDAW)
Human Rights Committee General Comment No. 28
International Covenant on Civil and Political Rights (ICCPR)
International Covenant on Economic, Social and Cultural Rights (ICESCR)
Declaration on the Elimination of Violence against Women
---
Author:
Medyline Agnes Elias (Intern at CESASS UGM)