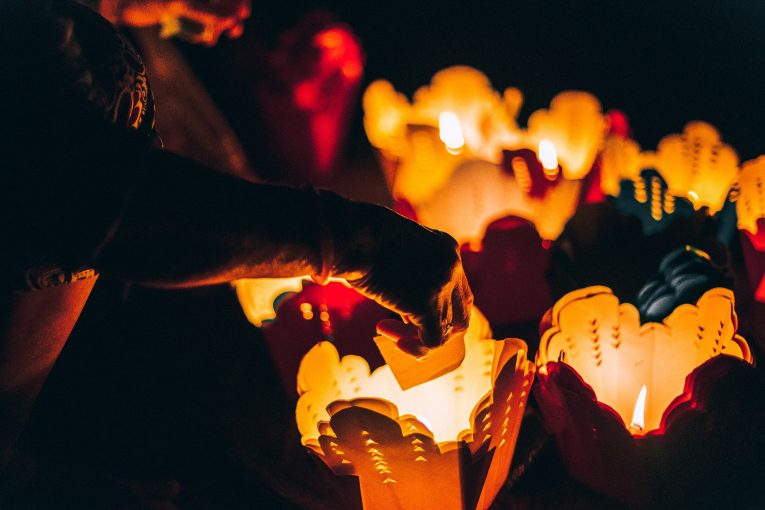 Have you ever been to Borobudur during Waisak? Or went to Thailand and saw a lot of shops which provide the needs of the monks? Usually you need to provide extra money in your wallet.
Yes, the religion rituals and cultural tradition now have been used by the business people to get bigger profit under the pretext of culture-based tourism. Several places of religion rituals implement a system of admission, or the use of religious attributes that require us to pay the rent. In addition, the economic effects also be felt by its surroundings, like foods business and parking. These are what commonly called commodifications, which come from the words commodity and modification. Most of the experts in contemporary usage, define commodities as any goods or services associated with capitalist production and can be found as a result of the growth of capitalism, this is the inheritance of Karl Marx and the early political economy (Appadurai, 1986). Along with Karl Marx, Greenwood (1977) also stated that everything that is sold is assumed as a commodity, including culture. Modification means changing. If it merged with the meaning of commodity, commodification means changing a stuff to become economical commodity.  Shepherd (2002) stated that along with the increasing demand of tourism, commodification of culture cannot be avoided because the tourists want to feel different cultural experience as theirs. The debate is warmly discussed by the public and cultural and religion observers.
Local culture usually considered as main example which susceptible to commodification. Especially traditional clothes, festivals, and traditional folk arts become part of tourism commodity, like how they are presented or produced only for tourism consumption. (Cohen, 1988). Local culture usually deliberately changed and treated as a touristic attraction so that it can be destroyed because it lost its original meanings. As explained by Greenwood, the lost of meaning caused by the cultural commodification is a serious problem as a result from the development of uncontrolled tourism.
Cultural Commodification in Southeast Asia
In Southeast Asia, tourism industry is an important component from economic aspect for all ASEAN country members– especially Cambodia, Lao, Malaysia, Philippines, and Thailand, where the tourism industry contribute more than 10% of their GDP in their economic. Based on World Travel Tourism Council (WTTC), in last 2013 ASEAN country members got a quite big devisen from tourism sector which was US$ 112.600.000.000. From the number of visitors, in last 2014 ASEAN succeeded to invite a total of 55 million tourists outside ASEAN.
The wealth and the variety of culture become one of the touristic attractions which become the main pillar for the success of tourism in Southeast Asia. By utilizing culture as an attraction, counties in the region also cannot escape from the problem of the culture commodification. As in Indonesia with the cultural tradition of Balinese Hindu community, inside the dances there are layered meanings and usually performed in the temple of praying as offerings to the gods. In the context of tourism, dance performances are a form of entertainment which then be traded to the tourists. Baker et al. (2006) light up the impact brought by tourism to Barong dance that famous among tourists. Baker explained how I Made Kredek, a famous dancer and choreographer from Singapadu Village, introducing the short version of Barong dance which only an hour so that it more suitable to be performed to the tourists. This version also has a 'possession' part of the dancers even though it is a controlled simulation, short duration, and with minimal dialogue. Furthermore, the costumes used are also deliberately tailored to the tastes of the tourists. For example, Barong masks in some performances are even made similar to the Barongsai's lion head mask commonly encountered in East Asia to attract more tourists from the area. This effort sparked a polemic among Balinese people. On one hand there are some people who agree and give opinion that the creation of a 'tourist' version of Barong Dance is actually an attempt to separate the original Barong Dance which is sacred and used for ritual ceremonies. While some others still disagree and think that Barong Dance should only for ritual purposes to maintain its sacredness, not to be presented to the tourists.
Not much different from Bali, the tourism industry in Thailand has grown so rapidly that Thailand managed to attract tourists with a massive amount, to reach the number 29.88 million tourists in last 2015. Tourism has also contributed to contribute 10 percent of Thailand's GDP. Chiangkhan District in Loei Province has been famous as an important cultural tourism destination in northwest. When tourism industry in Thailand grows bigger, a lot of cultural products of Chiangkhan societies deliberately modified to be sold to the tourists (Meekaew & Srisontisuk, 2012). For example, the traditional houses of the residents that deliberately renovated to become a home stay then offered to the tourists. Another cultural commodification happened is the alms of glutinous rice to the monks commonly practiced by local residents. The glutinous rice is placed in bowls then sent to a temple with foods and flowers. Travel business owners and home stay owners see business opportunities and create a package containing glutinous rice, food, and flowers that tourists can buy. Clearly, the effort is a commodification because the presence of tourism there has changed the value of this ritual and turned it into one of the commodities that can be sold.
Something similar happened in Vietnam. Mua roi nuoc, derived from Vietnamese meaning 'dolls that dance on the water', is a kind of puppet which is traditional Vietnamese performing arts. This puppet is similar to wayang golek in Indonesia. What distinguishes is a puppet show that weighs 10-15 kg is presented on stage in the form of a pond filled with water waist-high. The Mua roi nuoc water puppet show is rooted in the religious values of agricultural life in Vietnam (Pack, Eblin, & Walther, 2012). This show connects important aspects of religion and spirituality embodied in folklore in its performances over the centuries. Along with the increasing popularity of Mua roi nuoc among tourists, modern practitioners have changed the key components of their appearance both in terms of content and formats aimed to attracting spectators from foreign tourists. For example, the main topic that lifts the lives of rural Vietnamese people has now been combined with more universal topics like love and romance. The figures are also influenced by foreign cultures such as the emergence of cowboy figures. The duration of the show has significantly shortened to maximize the number of shows in a day. No wonder that today many custom leaders, puppeteers, and cultural figures claimed that this contemporary show has lost the value of its ritual performances associated with the rural spirituality of Vietnam.
Between the Needs of Tourism and Cultural Maintenance
Like the two sides of the coin, the presence of tourism in Southeast Asia has both positive and negative effects. The positive side we can get is that tourism has turned the wheels of the economy so that it can bring in quite big devisen. Tourism also serves as a means of studying foreign cultures so that we can get cross cultural understanding to create a dream world peace. But inevitably, we also feel the negative effects from the presence of tourism in the form of local cultural commodification as already described. To address this, damage control needs to be done so that culture does not change fully into just as paid performance, it needs to be separated which is the sacred culture and which culture can be promoted to the tourists. Another approach that might be done is the process of de-marketing with the intention of restriction / exclusion of tourists who come to the tourist area. This is based on the assumption that excessive amounts of tourist, or often called as mass tourism, can damage the values that exist in the place (Swarbrooke, 1999).
Culture is more highlighting the values of wisdom contained in it, while the economy further highlights the commercial side and the welfare of society. There must be a balanced point between culture and economy. There must be a separation on which cultures are meaningfully deep and sacred with parts of the culture that can be promoted for tourism.  Although it can be said that it is quite difficult to achieve that, it will eventually bring benefits and goodness to the culture itself. There should be a belief that it is possible to find the perfect balance in between. Cultural results can still be used as a tourist attraction, as long as the tourism players are not greedy and change the essence of the culture solely to reap the benefits.
—
This article was written by Aninda Dewayanti & Riza A. Raafigani (in Indonesian).