[SEATALK PSSAT #36] Pandemi Covid-19 dalam Teropong Ilmu Sosial
Seri kelima dalam Webinar SEATALK Pusat Studi Asia Tenggara Universitas Gadjah Mada yang dilaksanakan pada Kamis, 12 Mei 2020. Webinar ini mengundang Dr. Siddharta Chandra dari Michigan State University, USA dan Sumadi Lukman Anwar, MD., Ph.D, FKKMK UGM
Lessons from the 1918 influenza pandemic for the COVID-19 pandemic and Experience from Cancer Navigation in Indonesia
"1918 inlfluenza pandemic is the mother virus which gave birth to major global pandhemic which had taken the lives of millions of people worldwide", said Prof. Siddarth Candra, an epidimiolgist in the WEBINAR series of South East Asia Talk, organized by the Centre of Southeast Asian Social Studies (CESASS), Universitas Gadjah Mada, a center of excellence in social science under the Indonesian Ministry of Research, Technology and Higher Education since 2016. This Webinar 36# was a cooperation between CESASS and the American Institute of Indonesian Studies (AIFIS), State University of Michigan, USA. Not many knew that the 1918 influenza pandemic had taken more or less 50.000.000 million people worldwide. In Indonesia, the pandemic took a very heavy toll in terms of loss of life.
[1]
The reduction in population due to the pandemic, which includes increased deaths and lowered births, exceeded 4 million. While the COVID-19 pandemic has not taken as many lives to date, there are nevertheless many parallels between the 1918 pandemic and the COVID-19 pandemic today. For example, both illnesses are caused by a virus, for which there is no known cure. As a result, today, we are using the same kinds of measures to prevent the spread of the disease as people took in 1918 to prevent the spread of the influenza. This includes paying close attention to personal hygiene, social distancing, and avoiding travel and large gatherings of people. Even though COVID-19 is highly contagious and cannot be cured today, there are many reasons why Indonesia's experience with COVID-19 may end up being very different from the experience with the 1918 influenza. First, communication today is much more rapid than it was in 1918. As a result, Indonesians are in a position to share experiences and best practices with each other and with people around the world as well as to learn from the best practices and experiences of others. For example, by the time COVID-19 arrived in Indonesia, the government and large segments of the population had already heard about the experience of China, where the disease originated, and were prepared to take steps to prevent the spread of the disease. In 1918, when the influenza arrived in Java, most people were completely unaware of the disease. We also learned very rapidly that COVID-19 affects older people more severely, and were prepared to take extreme precautions to prevent them from falling ill. The 1918 influenza affected people between the ages of 20 and 40 the most severely, but there was little awareness of this fact while Indonesia was experiencing the pandemic. We also know that social distancing can be very beneficial in preventing the rapid spread of COVID-19, and have rapidly implemented measures to maintain social-distancing practices. This is especially important in crowded areas, of which there are many in Indonesia. The most important reason to be optimistic about the global experience with COVID-19 is that we are technologically much better prepared to confront a viral pandemic today than we were in 1918. In 1918, scientists were debating the most basic questions about influenza, including whether it was caused by a virus or a bacterium. When COVID-19 arrived, we were able to sequence the genetic code of the virus within a few weeks. Today, based on that and other kinds of scientific knowledge, over 100 different candidates for vaccines are being developed and tested. In addition to the possibility of having a vaccine within the next year, we have the ability to test people for the presence of the virus and to quarantine them if necessary. We have communication technology with which we can trace contacts of infected people and quarantine them, thereby preventing the spread of the disease. In hospitals, we have ventilators to help severely ill patients breathe as their bodies fight the virus. None of these options was available during the 1918 influenza pandemic. Also at the same important, is the latest study of the navigation of cancer surgery care in limited-resource countries during COVID-19 pandemic by Sumadi Lukman Anwar, MD, PhD from the Faculty of Medicine, Universitas Gadjah Mada. In this presentation he shared over the complexity in the health system in Indonesia especially the treatment for patients who have problem with cancer. Amid the huge gravity of Covid-19 and amid the government protocol in eliminating the spread of this pandemic, he argued that specific considerations should still be undertaken as counterbalance between on the one side preventing COVID-19 transmission and on the other side also preserving patients' long-term life expectancy. For all of the above reasons, in their closing statement, both scholars highlighted that today experience with COVID-19 is likely to be very different and complex.  However, while we wait for the development of a vaccine or, better still, a cure, we need to remember that there are still millions of people who remain susceptible to COVID-19. The virus that causes this illness is novel, and our immune systems have not yet developed the ability to fight it. As a result, keeping these populations safe while gradually opening the economy up to provide livelihoods to millions of people is going to be an ongoing challenge until we can develop a vaccine or a cure for COVID-19. This webinar series was moderated by Dr. phil. Vissia Ita Yulianto (CESASS) who extended the call that the task to combat the spread of Covid- 19 should not only be shouldered on the government intervention and medical workers but must also be realized by collective awareness from the public to obey the protocol from the government.
Penulis
: Pusat Studi Sosial Asia Tenggara (PSSAT) UGM
[1]
Chandra, Siddharth. 2013. "Mortality from the influenza pandemic of 1918-19 in Indonesia,"
Population Studies
67(2):85-93.
https://www.tandfonline.com/doi/full/10.1080/00324728.2012.754486
[embedyt] https://www.youtube.com/watch?v=25kXl_tY-xk[/embedyt]
[SEATALK PSSAT #35] Pandemi Covid-19 dalam Teropong Ilmu Sosial
Seri keempat dalam Webinar SEATALK Pusat Studi Asia Tenggara Universitas Gadjah Mada yang dilaksanakan pada Selasa, 28 April 2020. Webinar ini mengundang Prof. Bambang Hari Wibisono, Kepala Pusat Studi Perencanaan Pembangunan UGM dan Prof. Sigit Riyanto, Dekan Fakultas Hukum UGM. [embedyt] https://www.youtube.com/watch?v=V2By-Xkd9RM[/embedyt]
[SEATALK PSSAT #34] Pandemi Covid-19 dalam Teropong Ilmu Sosial
Seri ketiga dalam Webinar SEATALK Pusat Studi Asia Tenggara Universitas Gadjah Mada yang dilaksanakan pada Selasa, 21 April 2020. Webinar ini mengundang I Gusti Agung Made Wardana Ph.D dari Departemen Hukum Lingkungan, Fakultas Hukum UGM dan Dr. Aprinus Salam M.Hum, Kepala Pusat Studi Kebudayaan UGM. RELASI SOSIAL – EKOLOGIS DAN KENORMALAN BARU "Setelah berakhirnya pandemi Covid-19, kemungkinan akan kembali ke skenario business as usual atau munculnya kenormalan-kenormalan baru karena belum ada bahasan mengenai bagaimana seharusnya membangun relasi sosial dan ekologis," tutur I Gusti Agung Made Wardana, Ph.D. dalam webinar SEATALK #34 yang diselenggarakan oleh Pusat Studi Sosial Asia Tenggara (PSSAT) UGM pada hari Selasa (11/04/2020). Diskusi webinar dengan topik Pandemi Covid-19 dalam Teropong Ilmu Sosial menghadirkan dua pembicara, yaitu I Gusti Agung Made Wardana, Ph.D. (Departemen Hukum Lingkungan Fakultas Hukum UGM) dan Dr. Aprinus Salam, M.Hum. (Kepala Pusat Studi Kebudayaan UGM). Covid-19 merupakan zoonosis sehingga tidak dapat dilepaskan dari relasi sosial dengan ekologis. Agung secara runtut menyoroti kondisi manusia dengan alam pada saat sebelum pandemi, saat pandemi, dan pasca-pandemi. Menurut teori The Great Acceleration, dapat dilihat bagaimana laju kehilangan hutan di Kalimantan sejak tahun 1973 hingga 2020. Hilangnya hutan secara tidak langsung merupakan bermula dari tidak berfungsinya hukum lingkungan secara maksimal. Akibatnya, habitat alami satwa liar mengalami perusakan yang diikuti dengan perdagangan satwa liar yang memungkinkan terjadinya perpindahan penyakit dari satwa liar ke tubuh manusia. Dahulu, satwa liar dimanfaatkan dalam bidang pengobatan tradisional China, namun kini pemanfaatannya meluas hingga ke ranah kuliner dan fashion. Indonesia merupakan pemasok satwa liar ke pasar dunia, termasuk trenggiling. Perdagangan ilegal satwa liar dari Jawa ke China sudah dimulai sejak tahun 1925. Pada tahun 2015-2018 di Indonesia terdapat 23 kasus perdagangan ilegal trenggiling berjumlah lebih dari 3.300 ekor dengan tujuan utama China. Data ini membuktikan bahwa Indonesia memiliki kontribusi secara tidak langsung bagi kemunculan Covid-19 karena Indonesia telah gagal mencegah laju perdagangan ilegal satwa liar ke tingkat dunia. Pada saat terjadi pandemi, kebijakan lockdown dan physical distancing yang lazim diterapkan, berimbas pada menurunnya polusi dan pencemaran sehingga ada perbaikan lapisan ozon. Akan tetapi, di sisi lain terjadi penundaan penegakan hukum lingkungan yang dapat berdampak pada peningkatan kejahatan lingkungan oleh lemahnya pengawasan, mengesampingkan instrumen pencegahan kerusakan lingkungan, dan peningkatan sampah (plastik, medis, deterjen, dan lain sebagainya). Pasca-pandemi Covie-19, Agung menegaskan bahwa konsep reorientasi untuk menjaga keseimbangan manusia dengan alam sangat diperlukan untuk mencegah pandemi-pandemi pada masa mendatang. Selanjutnya, ketertinggalan ekonomi dapat dikejar. Dr. Aprinus Salam menuturkan bahwa pandemi Covid-19 membawa dampak pada normalisasi-normalisasi baru tentang kehidupan dan kematian. Pandemi ini membuat kehidupan berubah. Ada normalisasi baru, seperti berkegiatan dari rumah, berkomunikasi dari rumah, dan tidak perlu berkontak fisik. Pun ada normalisasi baru tentang kematian. "Pandemi Covid-19 ini adalah uji coba kita, dunia kehidupan seperti apa yang akan kita alami pada masa mendatang," tutur Dr. Aprinus Salam. Setiap kelas dalam masyarakat memiliki parameter normalisasi kehidupan dan kematian yang berbeda yang membentuk konfigurasi tataran kebudayaan dalam tingkat dunia. Lebih lanjut, Dr. Aprinus Salam menambahkan bahwa kebudayaan harus di-rethinking atau dikaji ulang karena ada potensi terbentuknya kesetimbangan new normal. Selama ini strategi budaya di dunia bisa berjalan dengan hal-hal yang tidak selalu material, tetapi juga denga hal yang tak kasat mata. Diperlukan strategi-strategi kebudayaan masa mendatang untuk mendapatkan kesetimbangan. Harus ada keseimbangan antara pencipta, manusia, alam, dan aspek lain utk ke depannya. Ketika hidup seimbang, maka hidup dinilai normal. [embedyt] https://www.youtube.com/watch?v=6OBy5cnry9Y[/embedyt] [embedyt] https://www.youtube.com/watch?v=2waWjFvnK0E[/embedyt]
[SEATALK PSSAT #33] Pandemi Covid-19 dalam Teropong Ilmu Sosial
Seri kedua dalam Webinar SEATALK Pusat Studi Asia Tenggara Universitas Gadjah Mada yang dilaksanakan pada Selasa, 14 April 2020. Webinar ini mengundang Dr. Dewi Haryani dari PSKK UGM, Drs. Muhadi Sugiono dari Departemen Hubungan Internasional UGM, dan Prof. Jian-Bang Deng dari Tamkang University. [embedyt] https://www.youtube.com/watch?v=8gMoWPGKOsg[/embedyt]
[SEATALK PSSAT #32] Pandemi Covid-19 dalam Teropong Ilmu Sosial
Seri pertama dalam Webinar SEATALK Pusat Studi Asia Tenggara Universitas Gadjah Mada yang dilaksanakan pada Kamis, 9 April 2020. Webinar ini mengundang Anis Fuad S.Ked, DEA. dari Departemen Epidemiologi Biostatik dari Kesehatan Populasi FKKMK UGM dan Drs. Kurniawan Kunto Yuliarso dari Departemen Komunikasi FISIPOL UGM. [embedyt] https://www.youtube.com/watch?v=HRHyv-WGtng[/embedyt]
Setbacks of the Women's Movement on the Family Resilience Bill
Since 1977, the United Nations (UN) has celebrated March 8th as International Women's Day to fight for women's rights and bring world peace. In commemoration of International Women's Day, the Center for Southeast Asian Social Studies (CESASS) UGM held a discussion "Study of the Family Resilience Bill: The Setbacks of the Women's Movement in Indonesia". The discussion about women in the Family Resilience Bill was conducted by one of the PSSAT UGM researchers, Putu Yogi Paramitha, M.H. on Tuesday (10/03/2020) at the UGM PSSAT Library. It discusses how a Bill is not only reviewed in article by article, as generally discussed in the field of law, but also seeing the big picture or hidden intent. The discussion was attended by participants from various scientific backgrounds. Yogi presented the results of her analysis through a review of the Academic Paper on the Family Resilience Draft. As part of the Priority National Legislation Program (Prolegnas), this draft seemed too much to interfere in personal lives. Several articles that invite controversy are articles 25 & 26 of husband and wife duty, article 31 of prohibition of selling sperm and ovum, article 32 concerning prohibition of surrogation, article 33 (b) separation beds, article 45 (a) reduce divorce, article 55 family resilience education, articles 86 and 87 regarding compulsory reporting for survivors of social deviations to obtain rehabilitation, and articles 138-140 concerning penalties for violators of the Family Resilience Act. Some articles do not support gender equality and promote the marginalization of women. Women, in the Family Resilience Bill, are drawn back into the realm of domestic family duties. While men are prepared to be productive and are expected to focus on meeting family needs. A husband and wife are expected to keep the family by putting aside the current or future crisis. "To support gender equality, one of the parties must not be more dominant,"  Yogi said in her discussion. If seen from the background of its emergence, the proposers of this bill see globalization and the current trends can disturb the family's resilience. A family whose resilience is disturbed will not be able to overcome larger problems such as economic, social, etc. "The problem is, this bill opposes the focus on how to keep the resilience than to see the root cause, "said Yogi. "This shows an effort to re-domesticate women. The conservative values ​​of this bill are intertwined with efforts to reproduce social relations for the production of fathers as heads of families can facilitate well which in turn can increase productivity in the realm of production," closed Yogi in a conclusion.
UIN of Sunan Ampel Surabaya visited Center for Southeast Asian Sosial Studies
State Islamic University (UIN) of Sunan Ampel Surabaya (
http://fdk.uinsby.ac.id/
) visited Center for Southeast Asian Sosial Studies (CESASS), Universitas Gadjah Mada. This visit was a follow-up of cooperation between CESASS and PSSAT UGM. This cooperation included education and research, local multicultural socio-religious studies, academic publication, student exchange and lecturer exchange. Welcomed by our CESASS Director, Prof. Dr. phil. Hermin Indah Wahyuni, this meeting attended by Dr. H. Abd. Halim. MAg (Dean of Da'wa and Communication Faculty UIN Sunan Ampel), Dr. Agus Santoso, S.Ag., M.Pd. (Vice Dean for Student Affairs and Cooperation, Da'wa and Communication Faculty UIN Sunan Ampel), Dr. Lukman Fahmi, A.Ah, M.Pd (Head of BKI Program, Da'wa and Communication Faculty UIN Sunan Ampel), Dr. Moch Anshori, S.Agm M.FiLL (Head Department of Da'wa, Da'wa and Communication Faculty UIN Sunan Ampel), Dr. Nikmah Hadiati Salisah, S.I.P., M.Si. (Lecturer, Da'wa and Communication Faculty UIN Sunan Ampel), and Dra. Mierrina, M.Si. (Lecturer, Da'wa and Communication Faculty UIN Sunan Ampel). In this meeting, discussed by CESASS and UIN Sunan Ampel, there were some topic about student exchange scheme, transfer credit system, and cross cultural-understanding between students. Prof Hermin convey how foreign student mobility could improve global competitiveness, also "Merdeka Belajar" by Ministry of Education and Culture could be a space for local-foreign students to learn from each other. Follow-up cooperation for student exchange last year, CESASS also very open for another cooperation in the future. Dr Halim, as the dean of Da'wa and Communication Faculty also convey his will to impove the cooperation by cultural exchange with foreign students between CESASS and UIN Sunan Ampel. UIN Sunan Ampel also very welcome for foreign students who wants to lear more about Javanese culture and Islamic Value.
SEA CHAT # 22: Literature in Southeast Asia and Latin America
As a region that is growing rapidly from various fields, Southeast Asia has similarities with Latin America. These 2 regions share the same historical background as colonialism, cultural pluralism, and spiritualism. The Center for Southeast Asian Studies (CESASS) of Gadjah Mada University (UGM) held SEA CHAT #22 "Regional Literature Between SEA and Latin America, What Makes the Differences?" by Gladhys Elliona Syahutari, on Friday (02/28/2020) at the PSSAT Library. Attended by the public and intern students from Singapore, Belgium, and the Philippines. In fact, 4 out of 11 countries in Southeast Asia can understand each other's languages. Namely Indonesia, Malaysia, Singapore, and Brunei with Malay or Austronesian roots. Likewise, Thailand and Laos, although they can't understand each other, but it comes from the same language family (Kra-Dai). In fact, in the Latin American region, the majority of countries can communicate with each other using Spanish, or Portuguese and Brazilian which are still one family. This explains a little more why literature in Latin America is unified when compared to Southeast Asia. From the colonial point of view, the majority of countries in Latin America were already independent earlier than the average of Southeast Asia, which had just gained independence in the 20th century. The use of the colonial language makes Latin America easily understood by Europeans, which is the center of science. Supported by the Latin American academics who have studied and worked in Europe, to bring home the rich of science. This geographical advantage is certainly not obtained by Southeast Asia which is located far from Europe or America. Some of these facts certainly show the uniqueness or challenges of Southeast Asian literature. "How many Southeast Asian writers study other Southeast Asian languages?" asked Gladhys, a UGM Graduate Student in Performing Arts and Fine Arts Studies. This question provokes active discussion between participants. Of course, the answer is not much. Southeast Asian writers tended to translate his work into English, then circulated it between the Southeast Asian region, where actually there were not many demands. For example, the famous novel Laskar Pelangi was translated into many languages, but none of the languages ​​of Southeast Asia. Gladhys' interest in this topic began when she became an assistant curator of literature in the arts community. For her, this rich Southeast Asian literature has various challenges that must be resolved immediately. One of them is the ability and willingness to learn from each other in Southeast Asian languages. "I'm also curious to read Thai literature. But of course, it is difficult to find here and language differences, " she concluded in closing.
[CALL FOR PAPERS] SOSS 2020 : Rethinking the Social World in 21st Century
Symposium on Social Science 2020
(SOSS 2020): Rethinking the Social World in 21st Century
Description:
The Symposium on Social Science (SOSS) is a biennial international event in the field of social science organized by the Center for Southeast Asian Social Studies (CESASS), Universitas Gadjah Mada. The theme of the 2nd symposium is 'Rethinking the Social World in the 21st Century.' It addresses changes that information technology has brought about to the society. It has not only redefined the way in which we interact with one another, but it also changed the nature of power within society. Amid these changes, social sciences face a very serious challenge. Unless they take the changes into account by addressing these issues or adjust their understanding of the world they are focusing on, the future of social sciences is rather bleak. The symposium, therefore, would take this challenge seriously to make social sciences relevant despite the changes. It will be held at the Universitas Gadjah Mada, Yogyakarta, Indonesia from 24-25 August 2020. Hence, the 2020 SOSS invites students, scholars, researchers, and practitioners to submit their paper include but are not limited to the sub-themes:
Conference Themes:
Social science and power
Social science, ICT revolution, and the future of humanity
The future of social science in Southeast Asia
Methodological challenges in social sciences
Critical perspective in social sciences
Disaster and climate change
Law, technology, and society
Women and human rights issues
Population, economic development, and future mobility
Religion and multiculturalism
Communication and media in digital era
Films and Social Change
The conference invites notable speakers as follows:
Keynote Speaker : Prof. Kishore Mahbubani*
Dr. phil. Hermin Indah Wahyuni, M.Si. (Universitas Gadjah Mada)
David Robie (Auckland University of Technology, New Zealand)
Jurgen Ruland (University of Freiburg, Germany)*
Jian-bang Deng, Ph.D. (Tamkang University, Taiwan)
*to be confirmed
Timeline
Abstract submission deadline: April 24, 2020
Notification of abstract acceptance: May 22, 202
Registration deadline: August 10, 2020
The Conference : August 24-25, 2020
Contact Us!
Email : soss@ugm.ac.id Phone : +62 274 589658 Instagram : @pssatugm Twitter : @pssatugm Fb : facebook.com/pssatugm Website : soss.ugm.ac.id Address : PAU Building 1st Floor, East Wing Teknika Utara Street, Sleman, Yogyakarta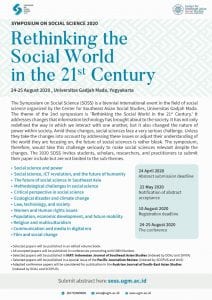 CESASS Holds Academic Writing Class for Interns
The Center for Southeast Asian Social Studies (CESASS) Gadjah Mada University held an "Academic Writing" class for the interns on Thursday (02/27/2020) at the CESASS Library. As an academic-based institution, CESASS invites student interns to participate in learning the world of scientific writing. Dr. Phil. Vissia Ita Yulianto, one of the researchers at CESASS was present as a speaker. Starting with an experience sharing session, Ita told the audiences that she had been in the writing world for a long time, starting with her love of writing. "Writing is a place to shed ideas and when writing I feel free," she said. Ita then explains about the process of the submission to be published in journals or scientific publications. Starting from submission, desk screening, review, and finally editorial decision. The author, especially beginners, can certainly learn a lot from this long process. After submission, the writings will get feedback and insight from the reviewee. Not all writings can pass the steps until publication. But for Ita, that was a natural thing. "In the global scope, 57% of writings have been rejected before being published. As long as the writing is authentic and has a strong basis, there is no need to worry, " said this graduate of Albert-Ludwigs University, Germany. "The position of literature study is very, very central. Not only to show the novelty of the study but also to show the examiner/reader about the universe of the writer's knowledge on the topic. The more comprehensive a researcher knows and understands the studies that have been carried out by previous scientists, the abler the way they research and analyze the issues raised is accountable ". Thus the statement of Dr. Phil. Vissia Ita Yulianto in the class. This class was attended by research assistants and internship students from Indonesia, the Philippines, Singapore, and Belgium. At the end of the class, participants are expected to have more knowledge about the world of scientific writing. It is hoped that interns become motivated to start writing and producing scientific work. CESASS routinely holds training classes for interns, especially around the fields of writing and social science.
Next
Preview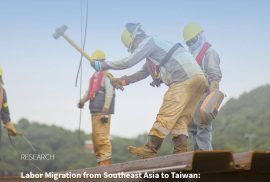 As a part part of the working collaboration between the Center for Southeast Asian Social Studies, Universitas Gadjah Mada and the Graduate Institute of Futures Studies, Tamkang University, Taiwan, A joint paper by Prof. Jian Bang Deng, Prof. Hermin Indah ...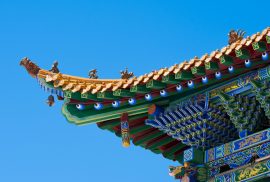 The rise of China as a global power has led to the state of panic throughout the world. Despite the insistence by its leaders of China's 'peaceful rise,' fear, anxiety and even hostility toward China has widely been spread. While ...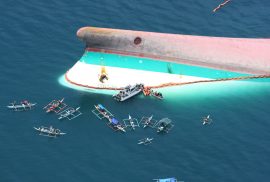 This research by Dr.phil. Hermin Indah Wahyuni, Theresia Octastefani, M.AP., M.Pol.Sc, Muhammad Rum, IMAS, and Prof. David Robie from Program Hibah Kolaboratif Internasional Fakultas ISIPOL UGM in 2018 is intended to analyse the communication and politics of disaster in Indonesia ...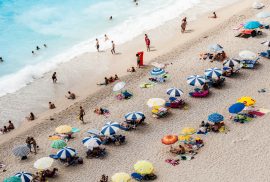 On the 1st-4th of April 2019, I attended the MMAT workshop (Mengajar & Meneliti Asia Tenggara or "Understanding Changes in Southeast Asia"). The workshop aimed to equip the participants with a deeper understanding of Southeast Asia as well as research ...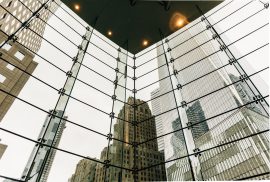 The South China Sea issue is currently one of the most evident aspects of the growing polarization between the world's two major economies, China and the United States. Even though this question involves primarily actors from Northeast and Southeast Asia ...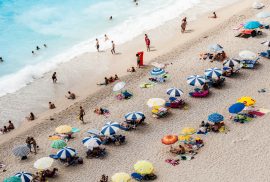 Introduction Tourism has become one of the most important global industries today. To maintain global power, Singapore has to get involve and give value to tourism in the country. Singapore can be considered a small country if you determine it ...
The process of marriage in Indonesia the society recognizes in term of dowry (mahr) for both brides. Dowry (mahr) is a property given to a woman from a man when he wants to marry the woman. In Toba-Batak custom, dowry ...