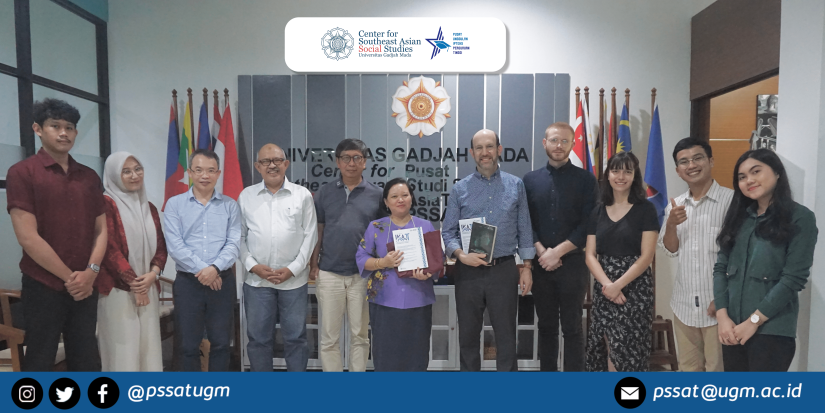 On Thursday 05 January 2023 the Center for Southeast Asian Social Studies at Gadjah Mada University received a visitation from The University of Tennessee and GEO Fisipol UGM. The visit was carried out by Paul K. Gellert Professor who came from the Department of Sociology College of Arts and Science at The University of Tennessee and was accompanied by his student Kieran Cole Phelps and Giuliana Nicole Castillo.
This was the first visit of The University of Tennessee at the Center of Southeast Asian Social Studies. The visit was intended to give basic knowledge of each research center and to expand the academic connections between The University of Tennessee and academic institutions in Southeast Asia, especially those at Gadjah Mada University. This visit was accompanied by Drs. Muhadi Sugiono as the PSSAT head of the Research and Cooperation Division and a lecturer at the department of international relations at Gadjah Mada University and Professor Jian-bang-Deng lecturer at Tamkang University.
During the visit, several discussions were held to discuss the profile and program of PSSAT in managing and developing issues in Southeast Asia. Follow-up the discussions, sharing were held to express the struggle, ups and downs of doing research in Southeast Asia. Continue the discussion both of the institutions share their experiences researching Southeast Asia as a complex dimension and interdisciplinary issue. Furthermore, the discussion talks about issues and new frameworks for viewing Southeast Asia in local and international contexts.
The discussion session became a space for dialogue for potential collaboration in the form of research or international conferences which could be developed as a channel for further learning related to Southeast Asia
By: PSSAT