Southeast Asia Conference on Media, Cinema, and Art
(SEA-MCA 2021): SEA-MCA 2021 : Rediscovering Southeast Asia Amidst Its Multi-layered Burdens
Description:
Southeast Asian studies have been matured in Western centres and have evolved considerably in the scholarly literature on international relations which continue seeing Southeast Asia as an un(differentiated) object of study. In response, even given the fact that no other region on the globe is more diverse than Southeast Asia, against external forces, Southeast Asian member countries have agreed to establish ASEAN — the Association of Southeast-East Asian Nations — community in 1967. Hence, it encounters rough roads in realizing a greater regional integration with its own considerable staggering problems and domestic fluctuations. To name a few, Asian Economic Community (AEC) is at its critical crossroads, ASEAN also has limited success due to its own non-interference norm and has its institutional nadir in political and security environment towards Myanmar coup and Thailand Junta shaping and slipping democracy into crisis.
Southeast Asia Conference on Media, Cinema and Art 2021 calls for scholars and multiple participants to present their current works on the umbrella topic "Rediscovering Southeast Asia Amidst Its Multi-layered Burdens"
The conference invites notable speakers as follows:
Keynote Speaker
Prof. Maria Serena Icasiano Diokno
Speakers
drg. Ika Dewi Ana, M.Kes., Ph.D. (Universitas Gadjah Mada)
Prof. Dr. phil. Hermin Indah Wahyuni (Universitas Gadjah Mada)
Gilang Desti Parahita, S.I.P., M.A. (Universitas Gadjah Mada)
Evi Mariani Sofian (Senior Journalist)
Prof. Cherian George (Hong Kong Baptist University's School)
Budi Irawanto, Ph.D. (Universitas Gadjah Mada)
Kamila Andini (Indonesian film director)
Thomas Barker, Ph.D (film scholar & Nottingham University Malaysia)
Dr. Gabriel Roosmargo Lono Lastoro Simatupang, M.A. (Universitas Gadjah Mada)
Dr. Eko Supriyanto, S.Sn., M.F.A. (Indonesian Institute of the Arts, Surakarta)
Gridthiya Gaweewong (Jim Thompson Art Center)
By registering as participant, you will get:
-Access to Keynote Session, all Panel Session and 3 Parallel Session
-E-certificate as a participant
-Receive Digital Program Book
-Virtual ID
-Get 10% discount for buying a book entitled "Social Science in the Age of Transformation and Disruption: Its Relevance, Role, and Challenge"
Register yourself as participant!
Registration link : https://seamca.ugm.ac.id/en/participant/
The Conference : October 04-05, 2021
It will be held as Virtual Conference, Indonesia from 04-05 October 2021. Hence, the SEA-MCA 2021 invites students, scholars, researchers, and practitioners to submit their paper include but are not limited to the sub-themes:
Conference Themes: "Rediscovering Southeast Asia Amidst Its Multi-layered Burdens"
Sub-themes
Media
Media, human rights and democracy
Media and pandemic Covid-19
Media, culture and society
(Digital) media policy in SEA
Convergence and digital divide
Digital literacy and digital divide in SEA
Misinformation, disinformation and info-demic
Strategic communication for community engagement
Risk, crisis and emergency communication
Environmental and ecological communication
Cinema
Regionalism in Southeast Asian cinema
Current independent film conditions in Southeast Asia
New challenges of digitalization for Southeast Asian cinema
Southeast Asian film industry during the COVID-19 pandemic
New censorship in contemporary Southeast Asian cinema
Contesting Identities in Southeast Asian cinema
Art
Art, democracy and human rights
Art and technology
Art and politics
Art and religion
Art and environmental security
The Anthropology and Sociology of Art
Performing and visual art studies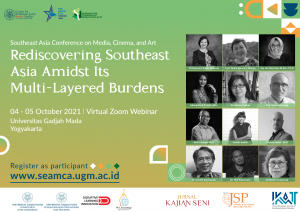 Contact Us!
Email : soss@ugm.ac.id
Phone : +62 274 589658
Instagram : @pssatugm
Twitter : @pssatugm
Fb : facebook.com/pssatugm
Website : soss.ugm.ac.id
Address :
PAU Building
1st Floor, East Wing
Teknika Utara Street,
Sleman, Yogyakarta