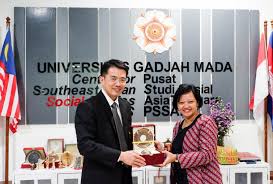 Center for Southeast Asian Social Studies hosted a guest presence from the Faculty of Liberal Arts, Thammasat University, Thailand on Monday (10/07/2017). The meeting was held to discuss the cooperation agenda between CESASS and Faculty of Liberal Arts, Thammasat University. This visit also further strengthened the relationship between CESASS and Thammast University which has been collaborating in various programs such as SEA-GATE and Visiting Program.
The visit was attended by the Dean of the Faculty of Liberal Arts, Associate Professor Dumrong Adunyarittigun and Associate Professor Penpimol Premaswad as Associate Dean of Administrative Affairs, Jiraporn Phornprapha as Associate Dean for International Affairs, Assistance Professor Adisorn Muakpimai as Head of Department of History, Philosophy, and English Language and Literature, Torpong Jamtawee as Director of Southeast Asian Studies Program, Natthaphon Tripornchaisak as Director of ASEAN-China Program, Hamam Supriyadi as Lecturer of Indonesian Studies Wannee Khumbumrung as Secretary of Faculty of Liberal Arts, and Orawan Changklungmoh as International Affairs Officer.
In this meeting, a group from Thammasat University was greeted by director and staff of CESASS. The event began with the introduction of CESASS and discussions on the ongoing cooperation and possibilities for further development. After that, the event continued with a tour of facilities at CESASS and the ongoing Southeast Asian Language Training Program (SEA GATE) program. The SEA-GATE program was attended by 20 Southeast Asian Studies students from the Faculty of Liberal Arts, Thammasat University until August.
In the evening, the welcoming dinner as well as the opening of SEA-GATE 2017 program was implemented. This event was held at rooftop Innside Hotel, Yogyakarta. Phanruk and Thanawat Sangsom as student representatives from Thammasat University conveyed their message and hope in joining SEA-GATE program.
"I hope the SEA-GATE program can increase my ability in Indonesian language and become a link between Thammasat University and Gadjah Mada University," said Warinya, showing his ability of speech in Bahasa Indonesia which was increasingly honed through Indonesian language learning program at SEA GATE. (Varrel)