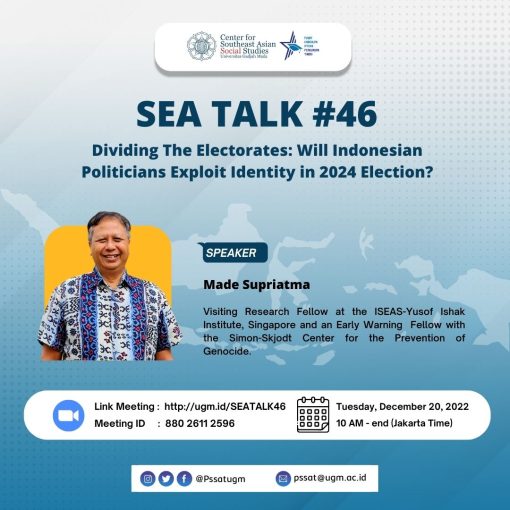 On December, 20th 2022, at 10.00 (GMT +7) Center of Southeast Asian Social Studies (CESASS) Universitas Gadjah Mada held an online seminar, the 46th South East Asia Talk (SEA Talk). This seminar was inviting Made Supriatma, one of the visiting fellows at ISEAS – Yusof Ishak Institute, Singapore, whose presentation titled "Dividing The Electorates: Will Indonesian Politicians Exploit Identity in 2024 Election".
This seminar discussed the role of identity that is embedded in each individual and its potential to trigger and to influence the individual as voters during the general election. Indonesia's social-cultural landscape, which is diverse, isn't exceptional from the identity narratives during election campaigns. 
Historically it can be traced back to when the 1st general election was held in 1955 where the voters tended to give their vote for their relevant legislative candidate from certain political parties. During the New Order era, there is an attempt by the government to create a more homogeneous society so that identity polarization isn't something keen. A diversity society started to burst again after the reformation attempt in 1998 then affecting the "minority-majority" phenomenon. After that, a group based on religion and/ tribes became prevalent in Indonesia, moreover during national-level elections. 
The exploitation of identity during the upcoming 2024 election in Indonesia is likely to be repeated because it's one of the easiest ways to create a majority. 
Written by: Mohammad Izam Dwi Sukma