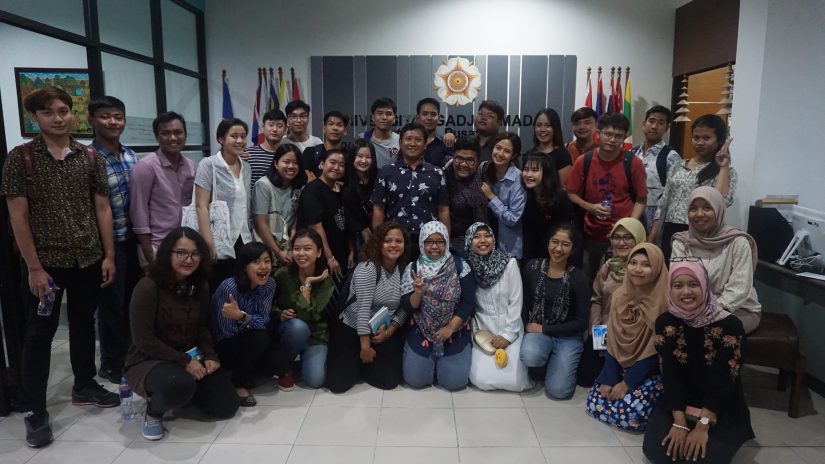 Pada Jumat (22/06/18), mahasiswa-mahasiswa Faculty of Liberal Arts Thammasat University tiba di Pusat Studi Sosial Asia Tenggara (PSSAT) Universitas Gadjah Mada untuk program SEA Gate 2018 hingga tiga bulan ke depan. Pembukaan program SEA Gate 2018 diadakan di Perpustakaan PSSAT UGM, dibuka oleh Dr.phil. Hermin Indah Wahyuni selaku direktur PSSAT UGM dan Dr. Hamam Supriyadi selaku dosen ASEAN Studies, Thammasat University.
Dalam sambutannya, Dr.phil. Hermin Indah Wahyuni bersama dengan Aditya Indra Nugraha, S.Ant. selaku Manajer Program SEA Gate 2018, menyampaikan bahwa program ini diharapkan dapat semakin memperat hubungan antara PSSAT UGM dan Thammasat University yang telah lama berkolaborasi dalam dua program: SEA-GATE dan Visiting Program.
Pembukaan dimoderasi oleh Varrel Vendira Rizlah Putra, salah satu staf PSSAT UGM, dan dimulai dengan perkenalan dengan 16 mahasiswa Faculty of Liberal Arts Thammasat University. Pembukaan pun dihadiri oleh 16 mahasiswa aktif S1 dan S2 Kluster Sosial Humaniora UGM selaku tutor program Southeast Asian Language Training Program ini.
Seminggu kemudian, PSSAT UGM akan kedatangan 4 mahasiswa College of Innovation, Thammasat University yang juga akan belajar Bahasa Indonesia selama liburan kuliah hingga dua bulan ke depan di PSSAT UGM dalam rangka memenuhi tugas mata kuliah ASEAN Studies yang dikoordinatori oleh Dr. Hamam Supriyadi.